Just like many other games, Overgrowth's terrain is generated from heightmaps. The easiest way to convert a heightmap to a terrain mesh is to place the vertices on a regular basis creating a grid. But this isn't the optimal way to generate terrain as it's not possible to create more detailed shapes this way (see following pictures for examples). That's why Wolfire decided to go off the grid with the terrain in Overgrowth.


So instead of basing the terrain on a grid, the vertices are placed on an irregular basis. There are at least two advantages with this; firstly, since real terrain isn't based on a grid, it looks more realistic and natural. Secondly, it's much more optimized, there doesn't have to be lots of vertices in flat places, so those vertices can be used where they are needed instead.
But where are they needed? Well, Overgrowth features high detail texture maps to give detail to the flatter parts of the terrain, the places where some extra vertices wouldn't be noticed at all. The places where those vertices would be noticed though is on the ridges, peaks, valleys and creases, simply places where the terrain is shifting a lot.

And that's exactly where they go and as you can see the result is very satisfying, making the silhouettes of the sand dunes look very detailed and realistic.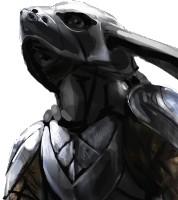 Thank you for reading and stay tuned for more.
IRC: #wolfire on irc.wolfire.com (quick link)
Further instructions on how to join the IRC
Overgrowth on Steam
Overgrowth on Facebook
And don't forget to vote for us in the Mod of the Year Awards!