We're now three weeks into the newest world here on Tribal Hero's Tribblez server, and things are just starting to really heat up. We recently posted on Reddit's r/gaming page and saw a significant spike of fresh faces, with conservative estimates in the hundreds and high estimates well over 1000. These newbies are already getting into the swing of things, with many of them joining the veterans already on the field of battle. Tribes consisting of large numbers of both new and veteran players alike have started making some serious attempts at controlling the increasingly stalwart Strongholds sprinkled around the map, one of the newer features in Tribal Hero.
The game world in Tribal Hero is occasionally reset as a means of leveling the playing field, with all players starting fresh. After conclusion of a map and just prior to reset, a clear cut list of victors across many categories is calculated and provided to the community; players and tribes are immortalized on this list for all to see, with accolades such as Top 50 Most Attack Points, Top 50 Most Defense Points, Top 50 Most Expensive City, and Most Victory Points given out to players and tribes in the form of Achievements.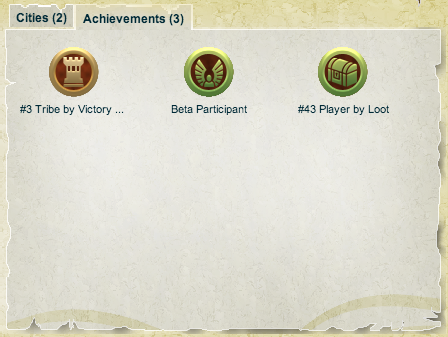 For players who excel, there are now special Bronze, Silver, and Gold chat badges given out to the absolute best of the best in each category. These badges are directly tied to the Achievement on the player's account, and show up in chat next to the player's name for all to see. These achievements persist across world resets and never expire. Given enough time, dedication, and excellence, a player can accrue up to three badges, with the best possible combination being the as yet unachieved triple gold.

Strongholds are a new but integral part of Tribal Hero's player versus player gameplay, providing the only clear-cut way for your tribe to "win" the game. Strongholds have thick gates which must be broken through, and contain within them a large number of Barbarians waiting to defend their territory. Due to the high level of difficulty in Stronghold siege, players must band together to overcome the NPC Barbarians or their rival Tribes' forces. Once the enemy has been dispatched, the victors claim the Stronghold for their tribe and begin accruing Victory Points over time. With each passing day, the amount of Victory Points accrued over time accelerates, rewarding tribes who defend their claims. At the end of the world, the tribe with the most victory points is declared the winner, and its members are all given a gold achievement and chat badge.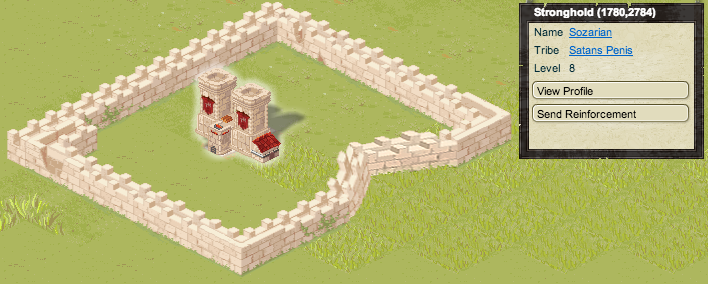 Aside from achievements for victory in these various categories, there are also several other ways to earn achievements and those tantalizing little badges we all love. For some players who make very unique contributions, there are even custom Achievements handed out by the creators themselves. One such player, Wesoteric, has been recognized for writing some very high quality lore for the community. Aside from the satisfaction of contributing to a game he loves, he was rewarded with a Lore Historian gold achievement. There are other players who are presently working on music and other media for Tribal Hero. Maybe one of them will be the next to earn such a special form of recognition.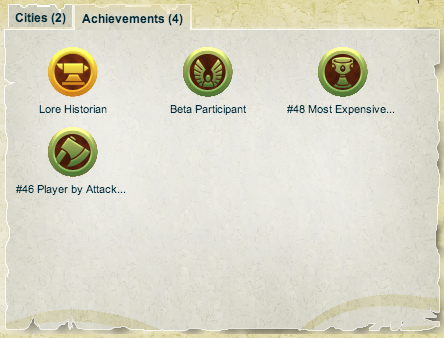 The easiest and, dare I say, most helpful way to earn an achievement and chat badge is in the form of a one time donation to Tribal Hero. This contribution helps the two-man development team spend more time programming the game and more money on upgraded server technologies, making the game better for everyone.
Development, in fact, is tireless and constant. The developers are very active in the Tribal Hero community and actively inquire about changes, game balance, and other improvements to the game. Some of the recent requests sent in via the in-game Feedback button were about the early game, and helping new players get into the swing of things faster. The result? Two major changes, the first being a new and improved Newbie Tutorial that walks you through everything you need to know to get your city up and running quickly, and the second being the addition of Barbarian Camps, which are small NPC-controlled "cities" that players can attack to earn Attack Points or gain resources. These changes have dramatically improved the early game, changing what could have been called slow and confusing into something fast, fun, and intuitive.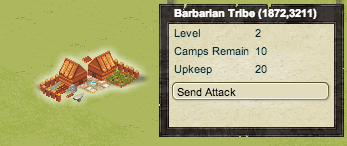 Speaking of fast and fun, something new arose this past world. Toward the end of the world, just before reset, a player named Syunfox invited the entire game world to a single massive battle at his city, which he comedically named "Make It Stop". This battle became known as the Battle of All Battles, and ended up having over 300,000 troops involved. There were no real winners, but it didn't really matter. This was just one final way for the community to bid farewell to the world they had built and fought in for the past 5 months. Word on the street is that the Battle of All Battles will become a permanent addition to Tribal Hero. Here's hoping!
Sign up, it's completely free without any pay-to-win features!