Improved theme support means that now the whole game can get a new look and feel when you unlock a new theme. Why stick to the classic retro feel if a space setting is more your thing? Or maybe you'd fancy something a little hellish or vibrant?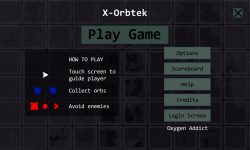 You'll also find new gameplay improvements such as enemies fading in rather than just spawning. There's also new enemies, pick ups and bug fixes.
These improvements are only available in the full ad-free version of X-Orbtek, which just like X-Orbtek Lite is free! Yup, even the full version of the game costs you absolutely nothing with no IAP, ads or anything similar. If you don't fancy a 37MB download, why not pick up X-Orbtek Lite?
Enjoy!