Hello all! This is spoo from the StarForge-team !
Today we want to present you our new schwarm-unit - the HYDRAGON ! We have made a big media-update with a lot of animations (look in our gallery).
The Hydragon is the next level of the Hydranit. In the first way, the unit seems weaker as the old version, because it can only attack ground-units and it takes more time to build it. But this unit is more powerful and can attack the enemies from the underground. Borrowed in the ground, the Hydragon is waiting for it's enemies and attack them with 9 spikes ! Over the ground the Hydragon is much stronger and kill armored vehicles easily as Infantry.
If you need a strong attack-unit or a mobile defense, the Hydragon should be your first choice !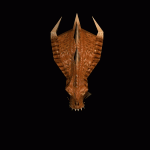 The HYdragon is the first way to mutate the HYdranit to a higher level. The second unit will be the Hydra, an Alien-like unit that can completly move in the underground - coming soon.
Any further questions ? Write in our forum or mail us directly !
That was all for the moment - good day. Thx spoo out.....