New Test Build
All beta users and Desura pre-purchasers can get access to a special "Test" build that I've uploaded today, v0.972t. It includes everything I've been talking about since 0.971b months ago, so there's quite a bit in there that should be new (especially content).
However, it's highly experimental at this stage. It's functional, and I got an hour or two of play without any bugs, but I can't guarantee it'll be balanced or bug-free :)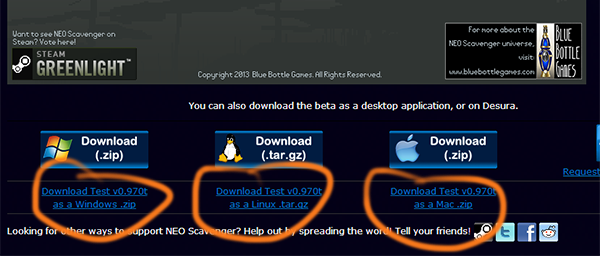 Click the text links below the download badges on the beta page to get the "Test" version. (Desura customers can link their Desura account to bluebottlegames.com to get access, using Desura Connect.)
The main updates in the "Test" build are:
New Items - All the new weapons, vehicles, junk, meats, pelts, and other items I've been yammering about.
New Recipes - The corresponding recipes for said items, plus a few new recipes for old things.
New Loot Tables - Items found in scavenging, on creatures, in hexes, and in the junk store are all redone.
New Creature - Deer now roam the map like other creatures do.
Corpses - Some creatures leave corpses now, and can be butchered for fur and meat with proper tools and skills.
New Battle Moves - It is now possible to surrender or demand surrender, as well as loot unconscious enemies.
AI Changes - Some AI will now prefer to loot unconscious victims instead of killing them.
Less Tripping - All creatures and player should trip less in combat now.
Batteries - Night vision goggles now use batteries. If all goes well here, I'd like to add batteries to other electronics, too.
Crafting Update - Quick recipes should now prefer cheaper ingredients, and those already in place, over those that are worth or and/or in the left panel. Also, ingredients are left in place instead of being auto-cleared each time.
Battle Ranges - Battles have much different range bands now, corresponding to the new ranged weapons. Open fields will begin battle dozens of spaces apart, making ranged weapons dangerous. And rough terrain means starting closer together. Melee weapons and certain melee moves have ranges of 0, 1, 2, or 3, instead of just 0.
Bug Fixes - Lots and lots of bug fixes.
To get the test version, click the text links below the download links on the beta page. The download button links still point to the 0.971b beta build, just in case the Test version turns out too unstable to play. Hopefully, this gives everyone the best of both worlds!
Again, the test build is "use at own risk." It was playable in my tests, but I could've missed something. If you try it, though, definitely let me know what you think of the updates. There are some pretty drastic changes in there, and I'm hoping they're improvements!