NIGHTMARE CASES: NEW RELEASE DATE.
We're all waiting that first case is completed.
But...
WHY THE GAME IS ONLY ON PC?
Ehm... Look at this financial diagram;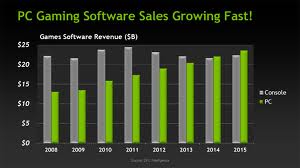 The PC Gaming sales reached the star!
But now... THE RELEASE DATE!
After looking at that diagram, now is the moment of release date... Drum roll... The game will released in the Q4 2013, that comes 11 November 2013!
But we had thought of a Closed Alpha, comes 20 August 2013.
The registration form will be founded in our website: CLICKE HERE!
Ragnark14, Project Leader.