All beta users and Desura pre-purchasers can get access to a special "Test" build that I've uploaded today, v0.975t.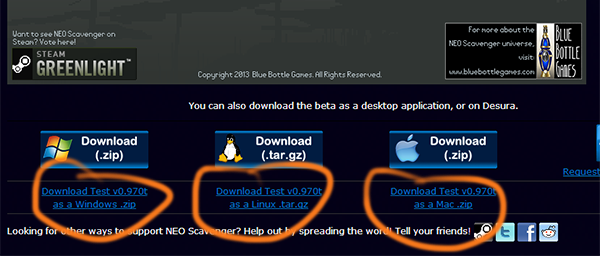 Click the text links below the download badges on the beta page to get the "Test" version. (Desura customers can link their Desura account to bluebottlegames.com to get access, using Desura Connect.)
Creature Spawning
One of the bigger changes in this test build is the way creature spawns happen. When scavenging, attracted creatures will no longer appear in the same hex as the player. Instead, the game will alert any nearby creatures to the player's presence, and those creatures will approach/flee accordingly.Also, the starting area should prefer bandits to raiders, which are slightly less well-trained. Furthermore, the number of bandits typically found will be smaller than previously encountered raider groups.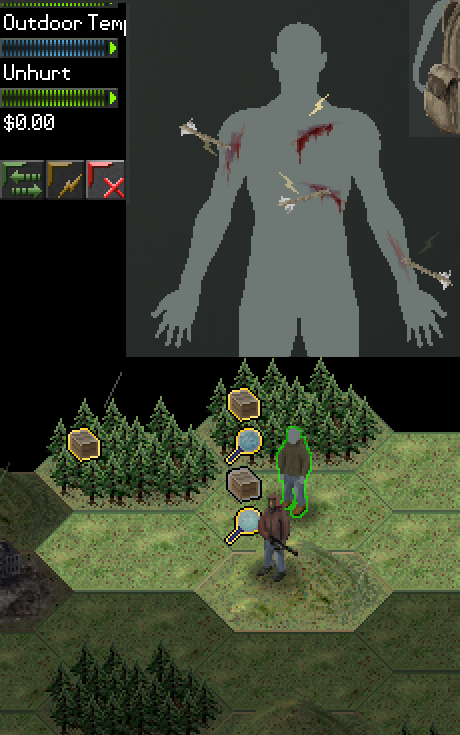 New primitive missile behavior, "destroy" cursor mode, and creature spawning.
Early Onset Hypothermia
I've also added an encounter which shows up in some early games when the weather is particularly harsh. If the player is unfairly being frozen to death and not finding clothes, this encounter should give players at least a fighting chance.
Primitive Missiles
Primitive missile weapons no longer drop their missiles to the ground after being fired. The missiles are lost unless they stick into the target, in which case they can be recovered when the target falls unconscious or dies.Missiles stuck in a target represent health hazards from wound exacerbation and removal. Missiles should also degrade when fired, unlike before.
New UI Options
The "Destroy" cursor is back! Players can once again quickly delete large swaths of items by holding the 4 key down when clicking. Also, the mouse scroll wheel now maps to switching attack modes.And in encounters and battles, the cursor will now default to take/drop, and return to whatever the player had before when done. I think quite a few people didn't realize they could advance encounters with a single click and spacebar, and this might help.
Crafting and Other Bugs
Quite a few bugs have been fixed in the crafting system, especially the Quick Recipe system. Incomplete crafting, null pointers, instability, and poorly-prioritized ingredients should now be much improved.And several other bugs have been fixed, including many recipes and ingredients.
Overall, this test build should be a little bit more fair, and a lot more stable. Let me know how the changes feel, and if you notice any major issues I've missed. If it seems pretty safe, I'll roll it out to replace all the 0.974 builds!