I've just finished uploading new beta build 0.960b and demo build 0.960d. The new beta build unlocks the DMC, adds some new encounters and other content, and changes the economy of scavenging when near the DMC. Both the demo and beta builds include more informative skill descriptions, an updated body heat algorithm for (hopefully) more stable temperature, and a raft of bug fixes.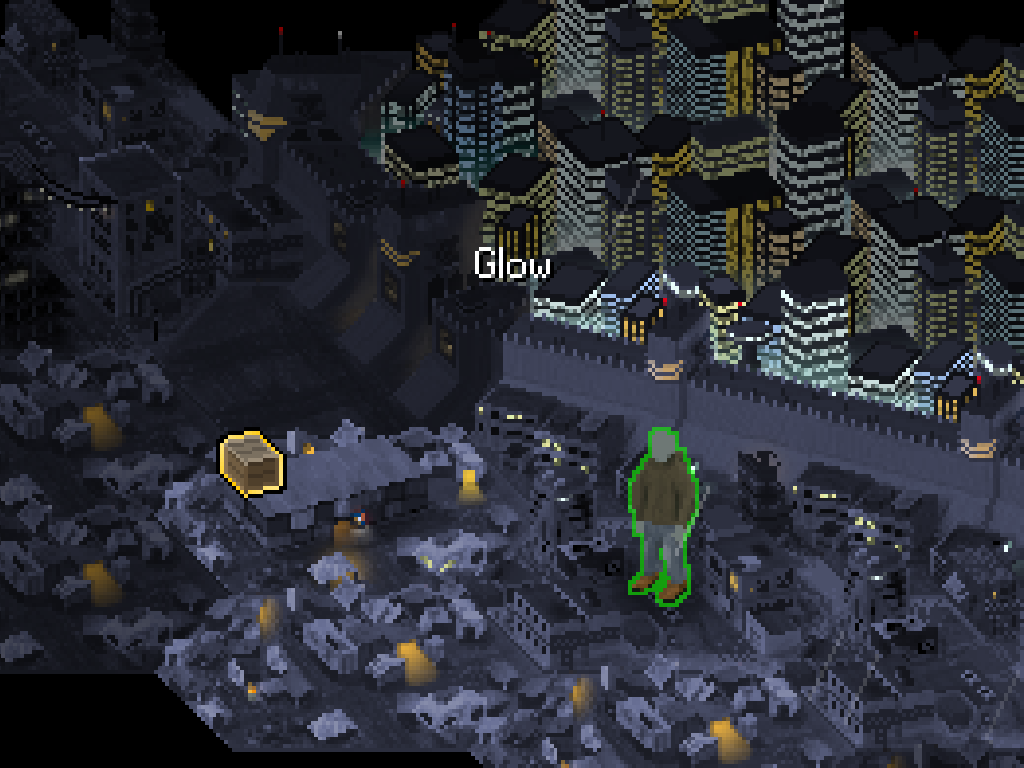 Beta players can now bypass the "orange alert," and gain entrance to Detroit Mega City!

Beta Updates

Updates and fixes to the beta version include:
Added new DMC gate illustration.
Added ability to enter DMC via gates (i.e. no more "orange alert\").
Added new map art for when player is in the DMC.
Added diner to DMC where player can buy meals.
Added medical clinic to DMC where player can get diagnostics, care, and medicine.
Added medical augmentation clinic to DMC where player can get eye surgery and bionic eye replacement.
Added night vision and telescopic zoom upgrade options for artificial eyes.
Added a new, full-sized plot-related wilderness encounter. (1 of 3 that are randomly added to map at start of new game)
Added a new, unique (i.e. only one in each game) creature.
Added mini encounter to introduce new creature.
Added new ambient noises for when inside DMC walls.
Added new music tracks by Josh Culler for wilderness and city.
Added trigger to start city music when first entering DMC.
Added new wilderness and city music tracks
Added code to play DMC-specific music when inside the city
Added new pill type to game: sleeping pills.
Changed scavenging to be less frequent, less successful, and attract less creatures when near DMC, and normal when far from DMC.
Changed Radiation Bob encounter to have fewer fatal outcomes.
Fixed a bug in the junk market that allowed players to swap an item for something they cannot afford from the store.
As cities go, there still isn't much to do in the DMC. However, the audiovisual experience should at least be interesting, and the services it provides should be very useful to players in dire straits. It also gives me a chance to try out some new ideas like augmentations and skill upgrades, to see if those are worth expanding.
The scavenging changes should also make it more challenging to obtain large amounts of money. Players will have to travel further from the DMC to get more loot, and the risk increases with the reward.
Plus, there are a few new pieces of content in the game, including encounters, a new creature, and a plot morsel or two. This update is a bit more DMC-heavy than plot, but I figured more folks were asking about when the "orange alert\" would be lifted, so I focused on opening up the city for this round of plot updates.

Demo and Beta Updates
The following updates were added to both the demo and beta builds:
Changed creature exposure algorithm to be more stable and predictable (using exp() instead of tan()).
Changed skill and trait descriptions to contain more relevant info
Changed item auto-sort button to restore original item positions if something doesn't fit (bug caused misplaced/inaccessible items).
Changed item auto sort button to place bigger items before smaller ones, for better packing.
Fixed music looping bug that caused loops to always start at 0s, and fade out for too long.
Fixed a bug that prevented encounters from adding/subtracting money from player.
Fixed a bug that caused campsites and contents to get misplaced when AI looted player's current hex. (e.g. attacking player in their sleep)
Fixed a bug that prevented recipes and newpapers from stacking when in hands.
Fixed a null pointer bug when spawning creatures after scavenging.
Fixed a bug that prevented hex loot icon from updating when items removed from ground.
Fixed a bug that caused player pop-up not to update when conditions changed.
Fixed a bug that allowed right-clicking on ghosted/faded items.
Fixed a bug that caused rotated items to have clipped/wrong image when rotated 180 degrees (esp. after save/load).
Fixed a bug that caused recipe pop-up text to include actual headline text instead of generic newspaper ingredient.
The new temperature code should hopefully be more stable, and prevent the random heat strokes of death. It seems a bit harsher to me now, though I've usually been able to score some clothes, a fire, or a sleeping bag soon enough to save myself. You'll have to let me know what you guys think of the new mechanic.
I've also hopefully fixed many of the misplaced/lost item glitches in the inventory, both due to item sorting/rotating and AI looting.
Finally, there were quite a few minor bug fixes, ranging from bad music looping to mismatched pop-up info and icons.

Overall, the game should be more stable, and more rewarding. Be sure to let me know what you think of the changes!