Updates to both the Beta and Demo
Both the beta and demo versions have had dozens of (probably over a hundred) individual changes and fixes since 0.971 in early June, so there's too much to list in a detailed way. Some of the more significant changes include the following:
Added Corpses - Most creatures leave corpses now, and can be butchered for fur and meat with proper tools and skills.
Added Items - New meats and pelts from said corpses.
Changed Loot Tables - Loot tables for scavenging, creatures, and other sources of items have been redesigned to be better balanced and have more variety.
Added Recipes - New recipes for butchering animals and starting fires.
Added Creature - Deer now roam the map like other creatures do.
Added Battle Moves - It is now possible to surrender or demand surrender, as well as loot unconscious enemies.
Added crippling wounds to arms and legs for cut damage (in addition to existing blunt crippling)
Changed AI - Some AI will now prefer to loot unconscious victims instead of killing them.
Changed Tripping - All creatures and player should trip less in combat now.
Added Batteries - Night vision goggles now use batteries.
Changed Crafting - Quick recipes should now prefer cheaper ingredients, and those already in place, over those that are worth more and/or in the left panel. Also, ingredients are left in place instead of being auto-cleared each time.
Changed Battle Ranges - Battles have much different range bands now. Open fields will begin battle dozens of spaces apart, making ranged weapons dangerous. And rough terrain means starting closer together. Melee weapons and certain melee moves have ranges of 0, 1, 2, or 3, instead of just 0.
Changed encounters that deliver loot to drop loot directly on ground, and show player an "Items" button below the "Confirm" button, instead of sticking loot to the cursor.
Fixed Recipes - Several fixes for recipes that ignored or allowed ingredients they shouldn't, or produced wrong output.
Fixed Encounters - Fixes for some encounter choices that were broken or confusing.
Fixed AI - AI should use surrender more sparingly now.
Fixed crafting bug that caused quick recipes to stop working after a while.
Fixed item value bug when items were identifiable and in stacks/containers.
Fixed some stability issues caused by bugs in combat.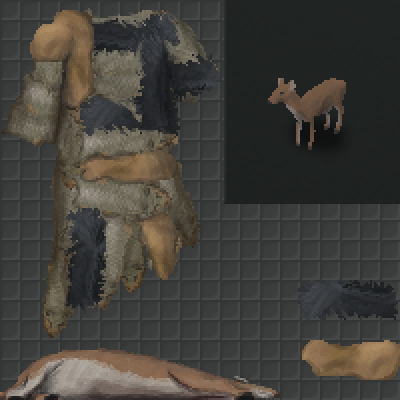 Walking food and clothing dispensers. a.k.a. deer.
Updates to the Beta
In addition to the above shared changes, the beta has an extensive batch of new content. That content includes:
Added new primitive ranged weapons and missiles, like bows, spears, stones, and slings.
Added new primitive melee weapons, such as shivs, spears, broken bottles, and glass shards.
Added new firearms, such as revolvers, shotguns, and semi-auto pistols.
Added new vehicles including sleds, travois, and homemade box carts.
Added new flashlight item as an alternative to torches. Uses new battery system.
Added new versions of some old items with straps for easier carrying/storage, like crowbars and binoculars.
Added new recipes for creating and modifying many of these new items.
Fixed some encounters that were broken or confusing, such as Zom Zom's.
As you can see, there's quite a bit going on in these new builds. As we move forward, the gulf between demo and beta will look a lot like this build, where new mechanics are shared between the two (when they make sense), but the beta gets the lion's share of the new content and updates. In the end, the demo should still offer hours of fun, but the beta will be a fuller, longer, and more replayable experience. In theory, anyway. I reserve the right to screw up :)
Enjoy the new builds! And let me know if any issues arise!