I know that MicroTale fans have probably become pretty disgruntled in the last few months. Despite a great launch, the first update has not been forthcoming. . . until today! Well, maybe not today today, but soon.
MicroTale's first update, which should be finished sometime in either December or January, will add an all new mode of play called "Survival Arcade." In addition to adding several hours of all new fun, it will also please anyone who is looking for a better combat system and something a bit more intense in the action department. Also, it looks epic.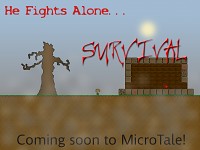 Basically, it'll be a lot like an old fashioned arcade game. No ability to save, no rest for the weary, and no hope of actually surviving for very long at all. You'll get your resources in the day, do a little building, and then weather through a night of relentless enemy assault. I'm getting very excited about developing it!
So get ready to do some serious resource gathering and shack building in the all new "Survival Arcade," coming soon to MicroTale! Visit www.jenito.com for more info.