As everyone know IOS and Android version already release on Itune and Amazon app store. after first patch done we continue to working on first expansion patch for the game immediately. now version 1.0.2 is finish and already send to Store waiting for approve i think it can be release in next week.
Some Art work of new character and new enemies.
Oni Character [Free unlock if you already unlock 1 character in game or get Full pack]
New Character of Metaloid:RG 1.0.2 his design base on ninja+samurai character, even he hold the sword in this picture but truly his main weapon is "Duel Shuriken Pistol" that allow his attack enemy that on from left and right position in same time. He also has special power to throw 3 gigantic shuriken attack all enemies forward and damage them for wide area. and he also only character in this game that have extra weapon that not consume any energy call "Heat Saber"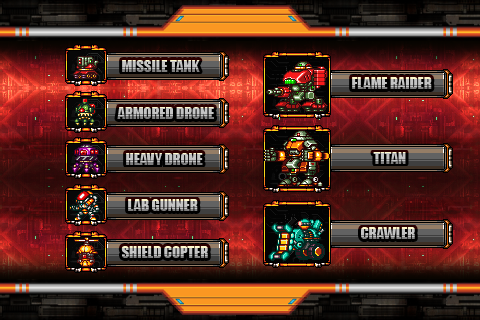 We don't deny that our game design originally base from another game call Super Crate Box and muffin knight but however we not accept that we clone it directly, we away try to seek new mechanic that make our game different and unique, one of those idea is our enemies design where each of them not only look different from each other but also have different role, even we proud of enemy design in first version but they're not even compare how epic of new enemy we add to version 1.0.2. these new enemy very details , more complex and other than that they're big! and very challenge to fight with, maybe you should try the game by your self!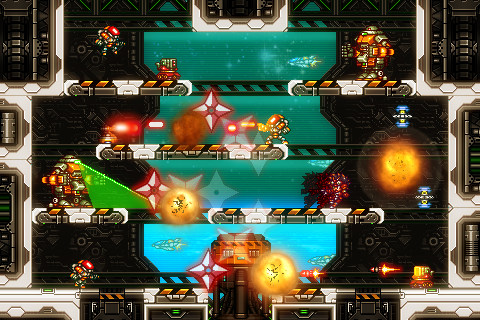 we accept that our game have quite few level but we also want to add more level but we need to make sure each of them can offer different challenge experience to our player. in version 1.0.2 we give you new map call "Space Lab" this level made for player who seek for more challenge with "Boss rush" feature. however the real map in game surly look different from this picture since we try to design the map with many different pattern and this is one of them.
if this version going well as expect maybe our next move should be start the work of PC/Mac version.
and if you visit here, please vote us! :P