Masterspace v2.2 has been released, introducing a lot of new turrets. Five turret classes have been implemented, adding up to a total of 13 different turrets:
The Standard Turret fires a high speed projectile at a single target and has a good balance between power, range and fire rate. This turret has 5 levels from Mark I to Mark V.
The Sniper Turret has a very long range and a high damage against single targets, although with a very slow fire rate. This turret has 3 levels from Mark I to Mark III.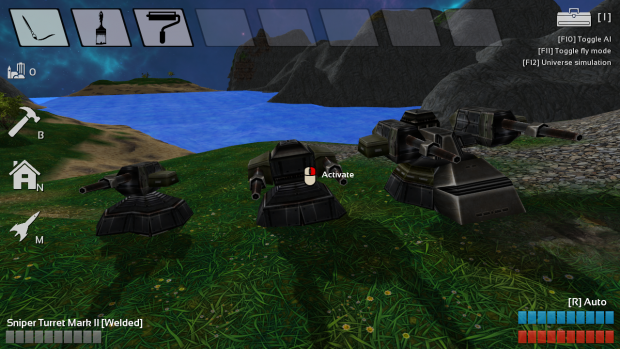 The Plasma Turret fires homing plasma missiles with a relatively high splash damage. This turret has 2 levels from Mark I to Mark II.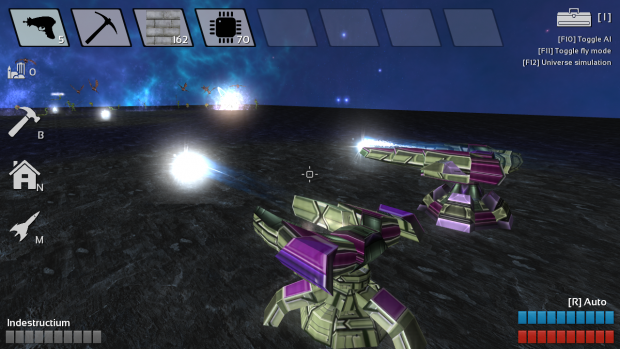 The Laser Turret fires high-energy laser beams on a single target and has a high fire rate and aiming speed. This turret has 2 levels from Mark I to Mark II.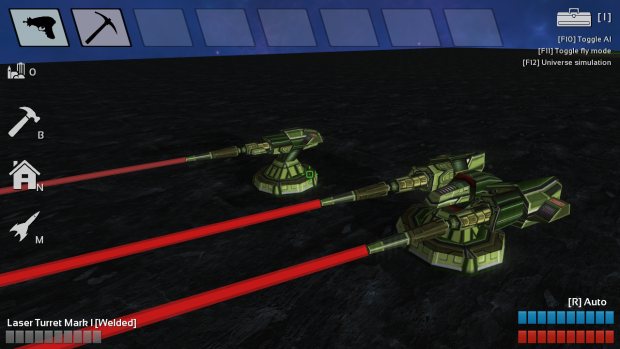 The Artillery Turret fires high-speed projectiles causing massive damage to both the target and the environment. This makes it highly suitable to penetrate armour plating. However, the fire rate and aiming speed is very slow.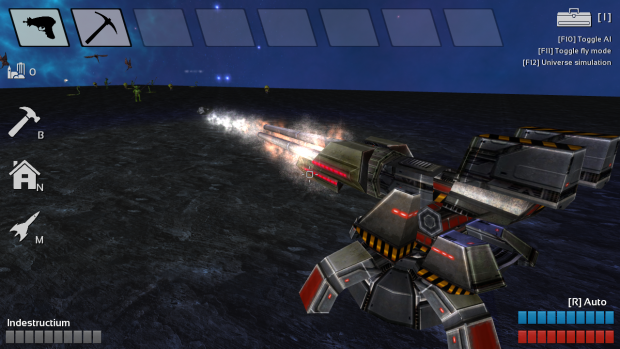 This update adds three tiers of sensors and deflector, which may be mounted on spaceships:
Also added is a new reactor type and the bed has been updated with an improved 3D model: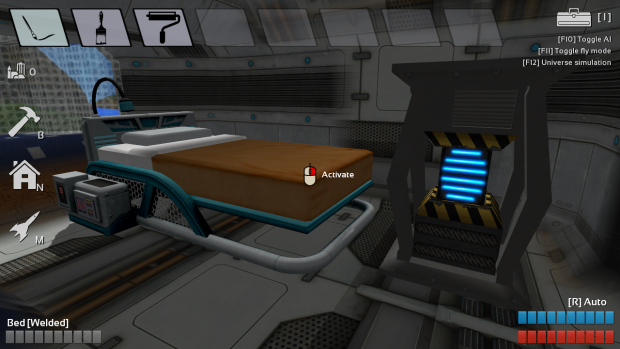 New in version 2.2 is the ability to join multiplayer games in progress. Furthermore, the performance of NPCs in multiplayer games has been greatly improved due to the implementation of client-side movement prediction. The graphics performance has also been improved, due to the introduction of LOD-levels for most NPCs.
The behaviour of most NPCs has been improved, e.g. enemies now react on being hit and turrets avoid hitting firendly objects. The mining droid has been changed to a repair droid, which automatically repairs broken objects. Additionally, new animations and sound effects have been added for most NPCs.
A new sample scenario is included in this release, "Siege", which demonstrates scenario scripting capabilities in a simple mini-game similar to a "tower defence". This scenario also demonstrates the functionality of the different turrets, as well as some of the enemies encountered in Masterspace.
Finally, a lot of bug fixes and user interface tweaks have been implemented. For a complete changelog, please see below.
Download the free version here:


To upgrade to the full version, download and install this unlocker. Please note that you need to apply this unlocker even if you have unlocked a previous version, as the unlockers are version specific.
New features:
Support for multiplayer run-time joining
New Mark I to V Standard Turrets
New Mark I to III Sniper Turrets
New Mark I to II Plasma Turrets
New Mark I to II Laser Turrets
New Artillery Turret
New Mark I to III Sensors
New Mark I to III Deflectors
New Nuclear Reactor object
New Siege scenario
Repair droid automatically repairs broken objects
LOD levels for NPCs
Bug fixes:
Fixed indestructible voxel bug
Fixed inventory stacking bug
Player is no longer "running" after death
Fixed first cycle production bug
Changes:
NPCs now reacts to damage
Watcher now fires homing missiles
Many new sound effects
Improved multiplayer NPC performance
New main menu layout
New Bed model
Mining droid changed to repair droid