Masterspace v1.9 has been released, introducing an improved user interface. Both the layout and the color scheme has been changed to maximize usability. Additionally, the main menu has been improved and now includes a real-time planet preview for the game in progress. In-game, smart crosshairs that change according to the selected object have been implemented.
A blueprint saving system is now in place, which allows building and spaceship designs to be saved using a simple in-game interface. Saved blueprints may be used to replicate objects for later use and may easily be shared with other players online. Also, database buildings may be used to populate random planets in scenario generator scripts.
New objects in this version include three spaceship exclusive items: a captains chair, a control panel and a deep space sensor. These objects are used to provide functionality to the spaceship. Also, the photosynthesizer, sawmill, advanced materials maker and mine cart have been updated with higher quality models.
A captains chair is now required on the ship in order to take control of it. Spaceship control is provided by activating the captains chair and the use of TAB in previous versions has been removed. The control panel is used to view the spaceship from a third person perspective and may be used by passengers on the ship, whereas a deep space sensor is required to detect planets from a distance.
Finally, a culture system has been added, which calculates the aesthetical value of buildings. This encourages the player to build houses in "nice" materials such as bricks and wood boards, instead of unprocessed stone or wood. The total culture value is shown in the top left corner and will serve to give the player a sense of achievement for constructing buildings. The culture value may also be used in scenarios as victory condition, to progressively unlock new objects or to determine the controller of a planet.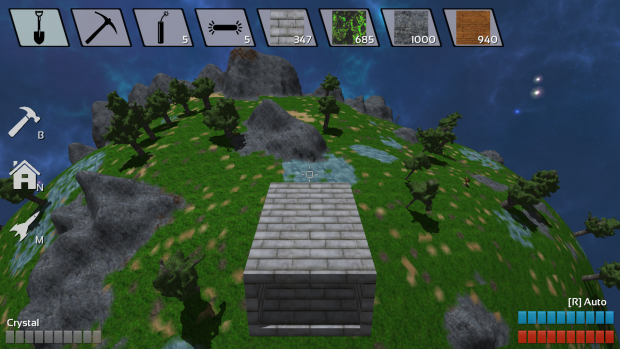 On the technical side, HDD caching of voxel and physics data has been implemented. This allows for larger game worlds on systems with low memory. Also, trees have been reimplemented as individual voxel volumes, which now allows for trees on spherical planets. As usual, some bugs and crashes have also been fixed. For a complete changelog, please see below.
Download the free version here:


To upgrade to the full version, download and install this unlocker. Please note that you need to apply this unlocker even if you have unlocked a previous version, as the unlockers are version specific.
Changelog
New features:
New main menu screen with planet preview
Blueprint saving system
Smart crosshairs
Pregenerated quick loading scenarios
New objects: Captains chair, Control panel, Deep space sensor
Updated models: Photosynthesizer, Sawmill, Advanced materials maker, Mine cart
Player settings are now saved
HDD caching of inactive planets
Culture system
Trees reimplemented as individual objects
Trees are now functional on spherical planets
Changes:
Updated GUI design
Improved LOD materials
Material deposition times may now be set by scripting
NPCs are now prevented from falling over
Slightly faster digging rates
Carrying/Activating/Selling may now be set on an individual objects
New font supporting international characters
Setting to enable/disable NPCs
Changed to compressed .dds textures for most objects
Bug fixes:
Fixed material deposition bug
Fixed placement of objects on spherical planets
Fixed NPC movement on spherical planets
Game will no longer crash when a carried object is destroyed
Improved spaceship mounting
Fixed resource balls from sub voxel entities