One of the games I've wanted to use in the fangame from the very beginning was Super Mario Brothers. It's a classic game that I couldn't resist using. There are, though, a few challenges you might not expect when making levels based on games that everyone knows and loves. Due to the nature of the game we're making, the puzzles need to be unique and clever in their own right, but they should also tie into the area and the game we're parodying.This was the first area that I designed completely without input from the game's main creator Tijit. I wanted the focus of the levels to be on using interesting elements that are sort-of taken from the original games to overcome puzzles, instead of using existing IWBTG elements such as spikes. The first screen I made used Goombas (We ended up using these a lot, as they proved to be pretty fun and interesting to use in-game) who's heads you could bounce on to reach a higher platform.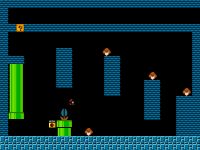 Of course, It's never that easy to pull off in practice, but it's an interesting and easy-to-grasp mechanic that fits in perfectly with the recognizable goomba. Based on how well this turned out, the next level took it even further, forcing the player to land a large string of precise bounces in a row to pass it.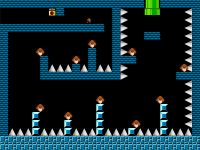 This one becomes challenging because the goombas move left and right on their small platforms, which forces you to adjust your jumps every time to account for it. It also gives the level a great pace, as one you start, there's no stopping unless you die or pass it. Naturally, we couldn't include Mario without World 1-1 making an apperance, so that was next on the agenda.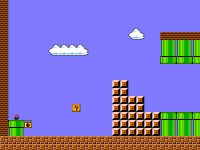 Originally the plan was to remake the first section of 1-1 pixel-perfect, then to make some traps around that, but in practice it just didn't flow the way we wanted it to, so we went for this instead. This screen really epitomizes the angle we were going for with the game; it looks simple and easy enough to beat, but traps and hidden dangers are everywhere. On the first few tries, it may seem impossible, but there's a deceptively simple solution behind it.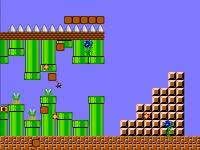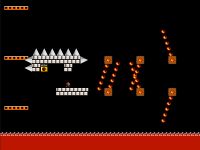 We're pretty pleased with how the frames turned out in the end. They have a distinct 'Mario' feel to them and have some of the clever puzzles that we've been getting into the flow of creating now that development is in full force. Having made these levels quite late in development, you can see how much our style and skill as level designers has evolved since the start of the game while playing them.So far our playtesters love them, so hopefully you will too.-Orann