Gorilla Nation!
Before I jump into some info on the satire, I should mention that it's coming down to the wire on the Kickstarter project for your suppppper-favorite game, King Randall's Party. There are only 51 hours to go, and I haven't made the funding goal yet - if you haven't backed the project already, make sure to head over and do so now!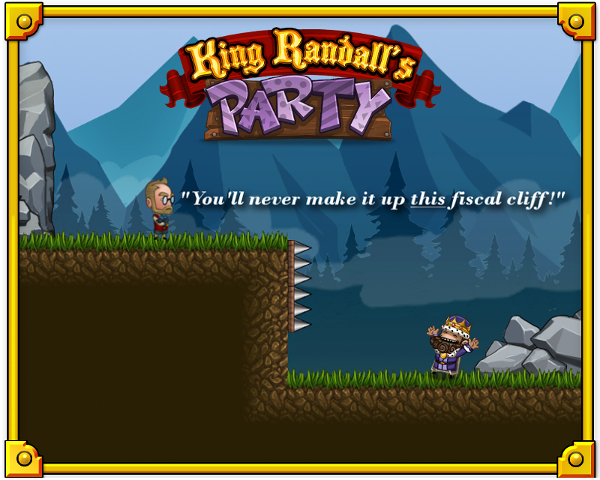 King Randall's Party has some pretty cool gameplay - and some of you have gotten a chance to play it and experience it for yourself. However, what you can't get from the alpha is that the game's story also serves as a satire of the current chaos and gridlock within the U.S. Government. I had this satire planned out when I started the game back in February 2012, and (un)fortunately the Gov. has just kept providing me with more and more material to work with. So hopefully KRP will be Jon Stewart and Stephen Colbert of the games world. Though clearly I won't be putting out a new game every day. XD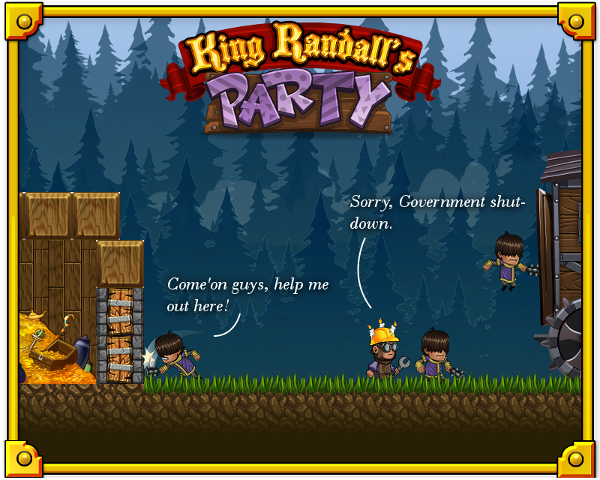 King Randall's Party is told from the perspective of smarmy, hipster soldiers fighting under the King's command, on a credit line longer than his sordid bloodline. It builds upon the freedom of sandbox games like Terraria with the soul-crushing, wave-after-wave panic of tower defense games. You must protect the treasury against the King, who is deploying his royal troops to secure enough money to buy party supplies... and mimosas!
I'm still coming up with funny, satirical concepts to connect the games story with the real world - probably in a bit more subtle way than in the images here. If you have any ideas, drop them in the comments.