Stretch Goal 1 Complete
Thank you my friends, We have reached the first stretch goal, Now I can assure you get better editors and deeper control over your ship design, weapon systems, race stats and looks. It's quite exciting. I will post more information on that this weekend as well as more detail on what we plan on doing with the internets and sharing your creations across players games should we reach the next stretch goal of $8,000. The campaign so far as been amazing and that is due to you guys and gals, I deeply appreciate it. Help me continue to push this out the world so we can assure the best possible quality game I could muster by the end of May. Any suggestions on how to reach more media is more then welcome. Now that's out of the way let's talk about legs.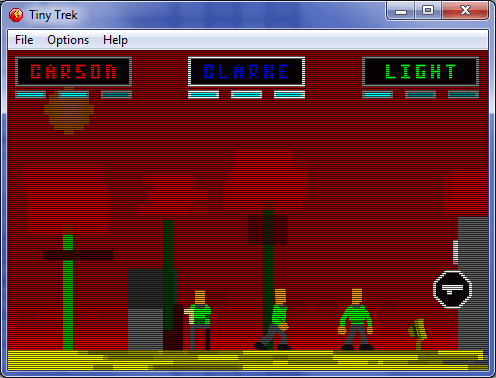 Crew Members v2 - Now with Walking!
So I wanted to share this recent development concerning the Away Team graphics, specifically the team themselves. As you can see in the above image we have the old static blocky crew member representation I am came up with. But my good friend and game developer colleague D.Czanik chipped in with hopes of solving my walking dilemma with the two animations you see next to mine. So I ask you the mighty 451 (Backers as of this update) what do you think. Do you like them? Do they fit in the game? These little guys are important cause you going to be doing a lot of adventuring together so we want them to look just right.
Speaking of away teams I have been asked recently "What do you do on a Away Mission anyhoo?". It's a fair question, so to give a bit more detail, the away mission engine will be capable of delivering interesting fun and excitement a couple of ways. One is when you just decide to visit the surface of planet for no reason, on the surface you will be able to scan items, collect samples, conducting mining, And conduct trade and conversation with sentient species you might meet. During this you may trigger "Episodes" which provide more structured gameplay through the mission matrix. A trigger on the surface of planet or on board another ship could be requests from other sentient beings, discovery of a artifact or even running into so pirate smuggler types. The idea is I have gone through and attempted to figure out what kind of things one would do on a Mission and distill that into triggers, and mission components. What kind of triggers and planet surface mission components would you like to see?
Kickstarter: Kickstarter.com
Steam Page: Steamcommunity.com