In march 2015 we started working on a brand new UnReal World update. Now 11 months later we have reached desired amount of awesomeness and the mission is soon accomplished. If the spirits are favourable release of UnReal World version 3.3 might take place in february.

This january is our final spurt with many fixes and various additions still being implemented for the upcoming release. At the moment it's a bit unsure if quests will make it to this version after all - simply because of probable lack of time to playtest them all properly. We will know the final outcome with quests at turn of the month. Until then it's all about the final spurt and going strong with new features being added on all fronts - as follows
A few tidbits from an evergrowing list of new features

We've got the graphics update done with hundreds of new tiles and map lighting effects. In addition, the game outlook also changes with rearranged right-panel statistics view.

Various dialogs have been stylized and there's more viewport for game messages: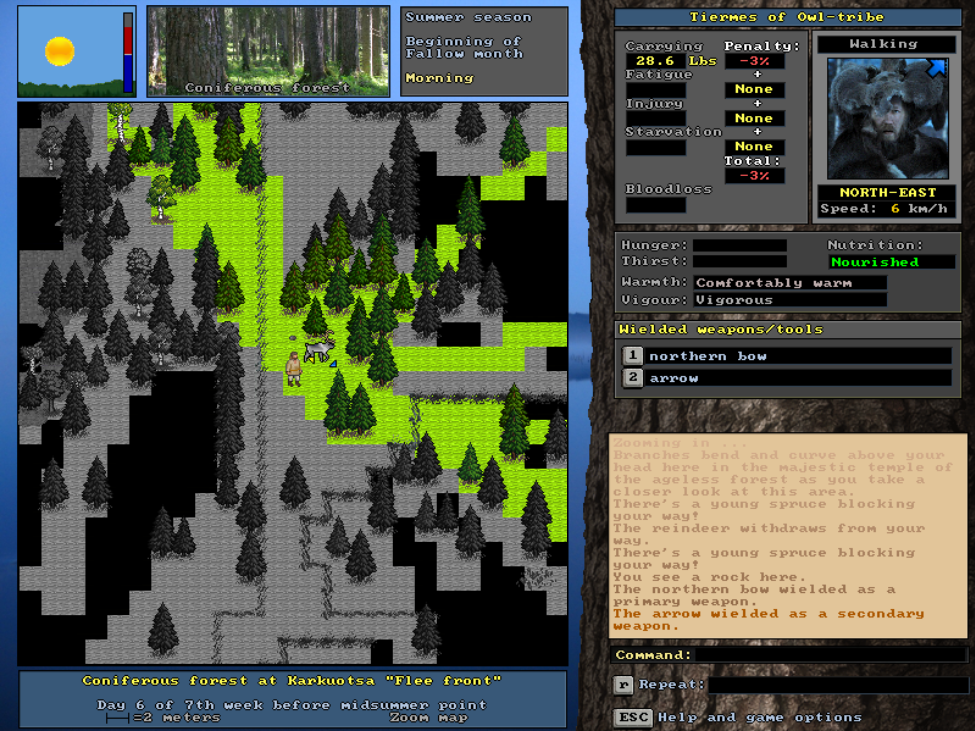 Graphical clues of heard sound are now shown within the new upper-right corner heading box. Sound clues now stay visible for a longer time and fade away gradually.
Here the sound from west is the most recent, and other graphical sound clues are slowly fading away: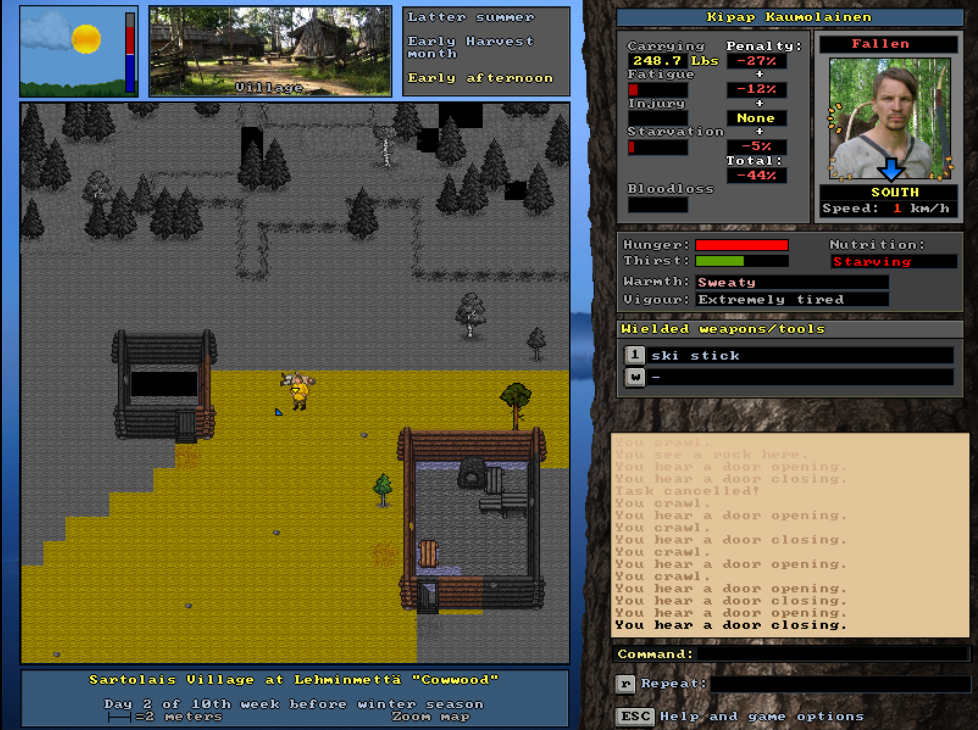 Recruiting companions have been improved, and now you can also ask about their weapon skills. This is most useful when want you need an experienced companion for a challenging hunting trip or adventure.
Asking about villager's weapon skills. Three replies from three different NPCs: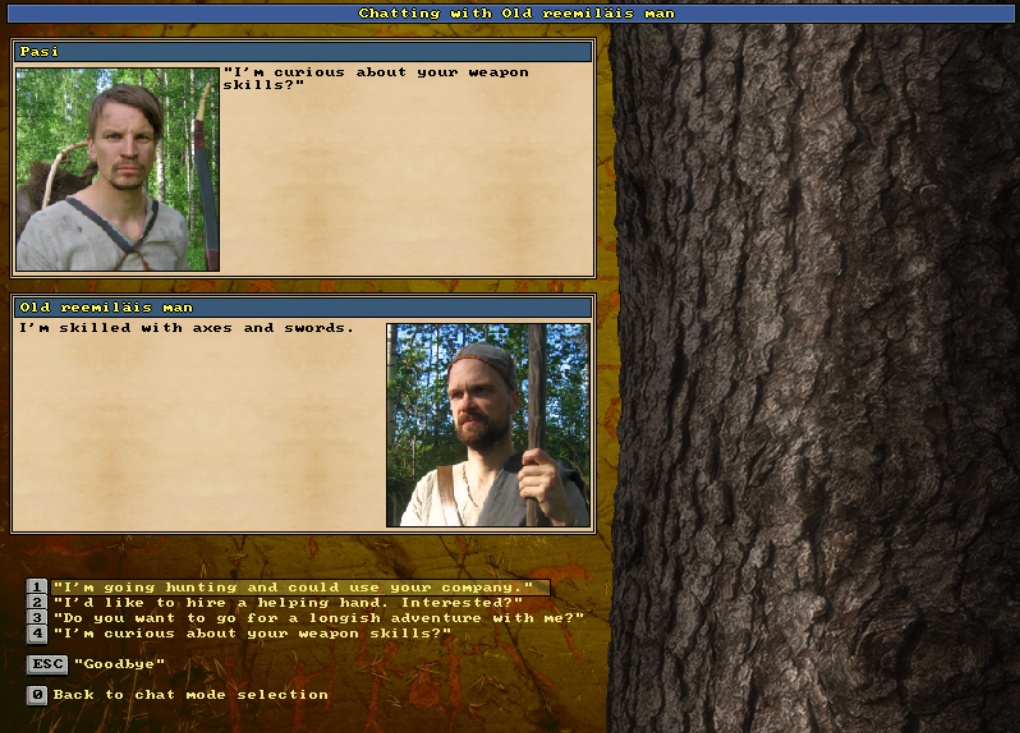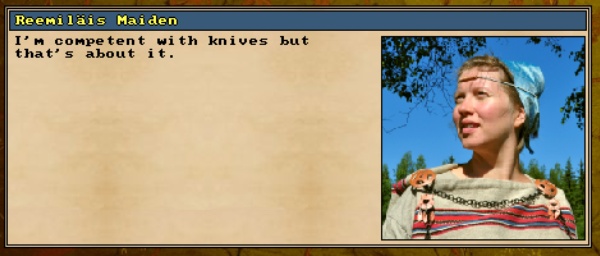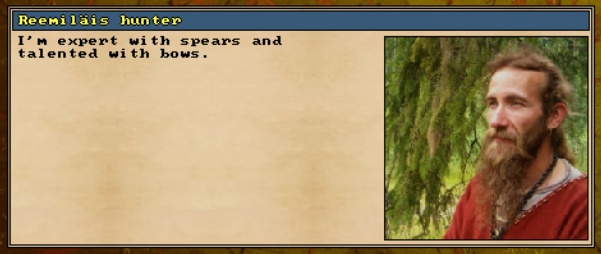 Building a fire has been improved in many ways. For example, carrying lit torch or having fire in adjacent tile helps to start a new a fire and some smaller kindling is always required to set larger pieces of wood on fire.
Mood picture. Settling for the night in the woods with an older companion. We've made hole in the ice for drinking water, and to keep warm it's best to build a few fires -- with the help of proper kindling and new game mechanics: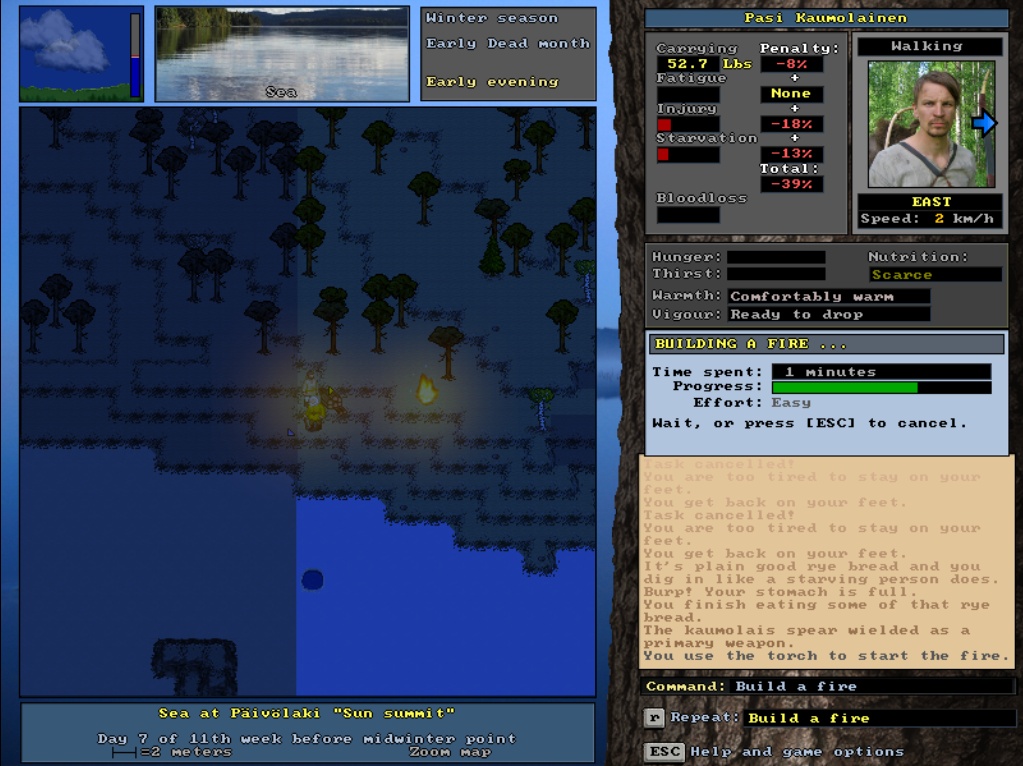 ---
UrW is being developed with your support.
This could be a good day to utilize your squirrel hides
and Donate to support UnRel World development

Thank you!
As a reward and to thank you in return, our characteristic video greetings can be downloaded after placing a donation of any sum.
Here's our latest video greeting, 'Onwards':


...and our current video greeting 'Six Shooter'
awaits for those who are able and willing to pitch in them squirrel hides.
If you are a curious, go take a look at our previous Thank You videos at Enormous Elk YouTube Channel.
---
Stay tuned for more -- and feel welcome to join at Official Unreal World forums
for good talks and frequent tidbits about ongoing development.