Jacbil Gobbet Update #5
Game Funding Update
After much debate on the start date of our crowd funding campaign, we decided to just go for it. The Jacbil Gobbet Project is now live:
We have had an excellent first week so far. The project is over 1/4 of the way funded. I have been hard at work advertising the Kickstarter, and think that we can easily get past the halfway point. I do not know how many more backers I can acquire through marketing. The rest is up to the community. Here is the direct link to our Kickstarter page: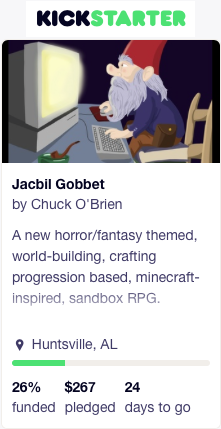 Thank you in advance for any support. Even if all you do is watch or share the video, it increases our popularity rank. I do not quite understand how the popularity system works because our project has more backers/funding than many projects considered to be more "popular". All I can think of it that popularity is based on views and video plays.
Back to work
Now that the project is live, it is time to get back to work. One of the first things that I will be working on is getting the game up on Steam. I believe the cross-promotion between Greenlight and Kickstarter will be good for both sides. My ideal situation would have been putting the game up myself. However, the Kickstarter does not look like it is gaining much of a following on its own or through my marketing skills. Therefore, I will turn to my friends at New Reality Games. I have worked with NRG before when publishing Dead6hot - my first game on Steam.

Once the game makes it into Greenlight, I believe we will have a much better chance of obtaining backers. I will wait it out to see how things go over the weekend. It things take off, I will consider again my option to publish on my own before signing with NRG.
This is the first look at the world map. Now, this may seem small, but let me give you some comparisons.
An iPhone 5 has a resolution of 960x640.
Each tile in Stencyl is 32x32 pixels.
This means an iPhone 5 screen houses 30x20 tiles.
Each cell in the spreadsheet is meant to represent 100x100 tiles (as indicated in the picture).
The mountain area would then be 500 tiles wide and 900 tiles tall.
This means 16000x28800, or rather 750 iPhone 5 screens.
Just the mountain itself will be a massive area. In the picture above, the mountain is the square with "Active Volcano" on the top. Relatively speaking, the area is only ~1/10 of the entire world. We are not even finished designing this world and even have other dimensions planned for the game. The world of Jacbil Gobbet will not be something that you can explore in a day!
I hope you enjoyed the article. Please share the video and/or Kickstarter link.