Jacbil Gobbet News #1
Introduction
Welcome to the world of Jacbil Gobbet! Choose your specialized fiend and explore, mine, build, or destroy to your heart's content. Jacbil Gobbet combines an open sandbox atmosphere with good old RPG progression. The world is your oyster… or just make a giant oyster. The only limit is what you can imagine.
Jacbil Gobbet features many RPG aspects that players have grown to love:
horror/fantasy themed
open world
hundreds of collectibles
world building (or destroying)
lots of craftable items
sandbox rpg with lots of space to explore
The original vision was to make a 2-dimensional Minecraft fan game. Our lead programmer goes by JMB Designs. The lead artist runs Autonomic Interactive (AI). I develop under the name Ceosol. The first and last letters of JMB+AI+Ceosol = Jacbil. Gobbet is an awesome word that means a chunk of flesh – great for a horror themed game. It is also a synonym for "notch". If you did not know, Markus Persson (the creator of Minecraft) goes by the name Notch. We think it is a nice homage to the man who created the game we used for inspiration. Since gobbet is a chunk of flesh, it seemed fitting to make a gnome the main character. Hence, Jacbil Gobbet is the name of our game and a garden gnome character within the game.
Habitats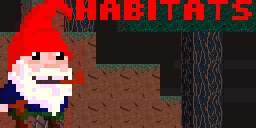 The world of Jacbil Gobbet is separated into habitats. Each one contains specific resources and collectibles. You can then use the collectibles to craft new items. These new items allow you access to even more collectibles. Below is an example from the Cave habitat:

The cave is populated mostly by stone. You can, of course, utilize the stone for construction purposes. The habitat is also populated by precious metals and gemstones. These will be your primary source of wealth. What isn't used for wealth may be processed into building supplies.
Building a house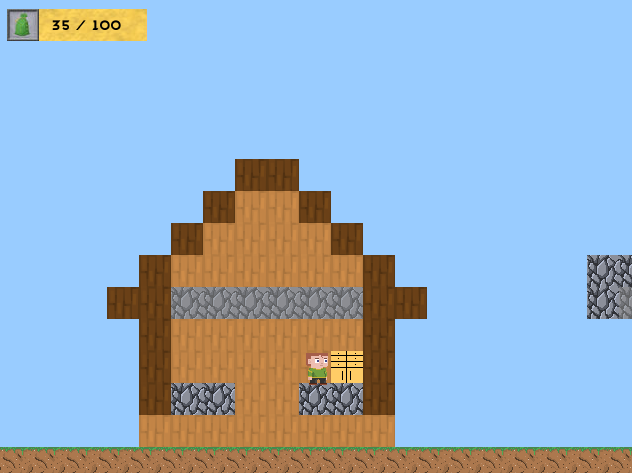 Above is one of the first houses we constructed while play-testing mechanics. It is a simple cottage. Once you set up your first home, you can use your tools to build a workshop, a forge, a refinery, or any other workspace that you need to further your goals. If you want to hoard money, you can build a mint and create your currency. One thing you will definitely need is wood to construct coffins. They will be your main source for transportation.

We will go into more detail about coffin transportation in the next update. Thank you for reading!