Continuing in my series of 'Campaign Sneak Peak' posts, today I'm going to be talking about Unlockable Modules.
One of the things you can unlock using the Ion Creds (earned by completing mission objectives) is Modules. These high tech components are strewn across the galaxy so part of the game is exploring and hunting down every last one of them. Here's the dialog that pops up when you find one!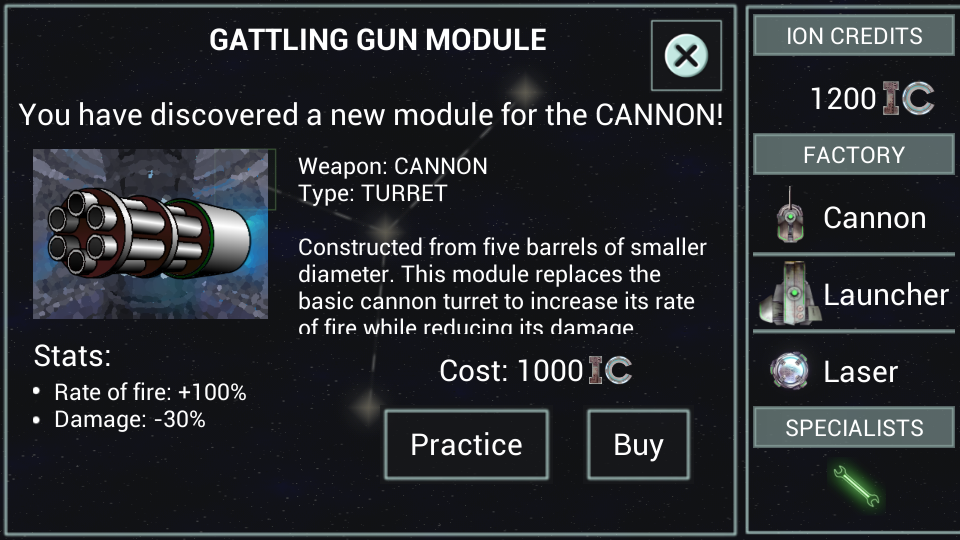 Modules allow you to manipulate the basic stats of your weapons (the cannon, launcher and laser) to adapt your play style. I'll try to illustrate this with an example.
Each weapon is made up of three modules - a turret, base and an optional accessory. These define the basic behaviour of each weapon. For example, the default cannon's shells cannot be shot down by a defensive laser turret but its lower armour, damage and range mean that it loses in a straight fight with a rocket launcher.
However you can tweak these basic stats to your advantage using Modules! For example, by adding the 'High Calibre Shells' accessory and by using the 'Sniper Turret' you can increase the damage and range of your cannon at the expense of its ability to shoot at 45 degree angles and an increased cost. This makes it much more effective at taking down rocket launchers. If you add a laser turret to defend the cannon against oncoming rockets then you have a pretty devastating combination... or do you?
At first glance this combination looks overpowered but it can be countered. For example the 'Precision Laser Turret' module allows your lasers to shoot down cannon shots! That way these high powered and expensive cannon shells can be rendered useless by a handy laser turret!
The key with modules is experimenting and finding interesting combinations that work out to your advantage.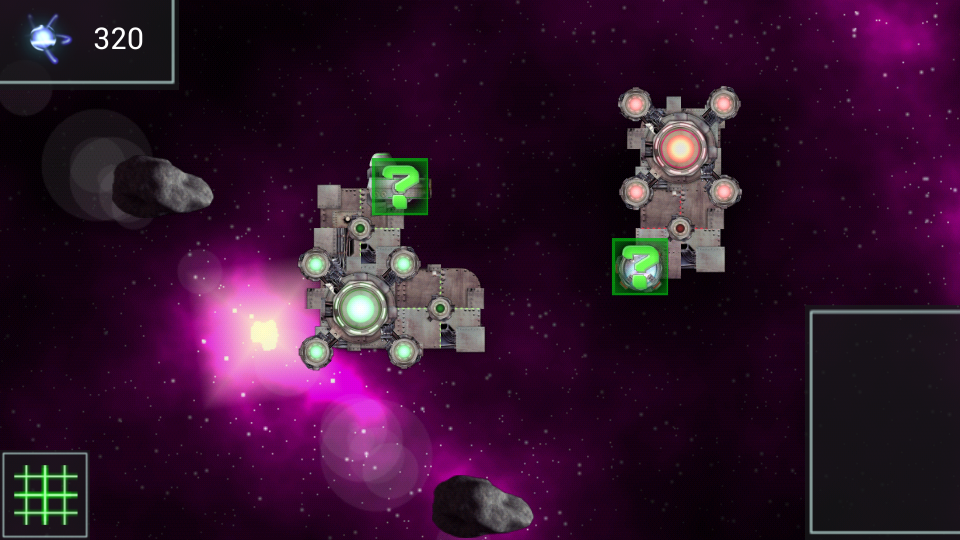 As you can see in the first screenshot, there is a button labelled 'Practice'. This will take you to a special mini-level where you get to try out the module before you purchase it. Little hint icons like you see above will explain what the module does and how to best use it.
Essentially this will act as your tutorial in Ionage. Instead of a lengthy lecture on the finer points of space platform warfare lasting for the first hour of the game, new mechanics will be delivered in hands-on, bitesize chunks. Therefore when you play the levels themselves it's up to you to put what you've learnt to use and win it for yourself!
Tune in next time when I'll be describing another type of unlockable to help in battle - the Specialist!
PS You can play the Ionage Alpha right now by heading over to the Ionage Website!