Go Go Monkey Squad is a HTML5 game for touch screen mobile platforms, which we plan to publish on the platforms below through their respective stores for free!

iOS
Android

Tizen (?)

Blackberry 10 (?)

Windows 8 (?)
Release Date:
Late 2013 (Aiming for October release!)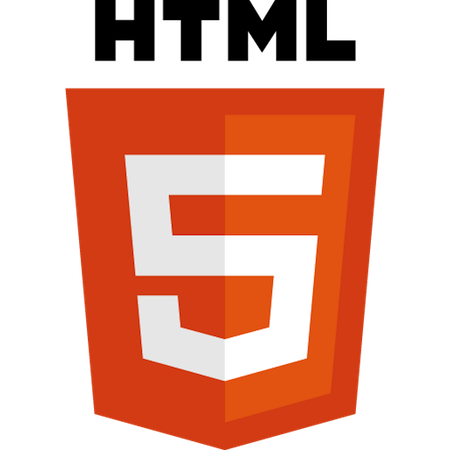 Go Go Monkey Squad is proudly developed using the HTML5 Game Engine - Construct 2! The game will then be powered by Ludei's CocoonJS to run on mobile like any other native app.
About the Game
Go Go Monkey Squad is an Endless Run & Shooter game where you play as four monkeys interchangeably. You change between characters through swipe gestures.
The goal of the game is to shoot enemies continuously to build up your combo. Once your combo ends, it rewards you with score depending on how long you managed to keep the combo going.You also collect Bananas to unlock hats which work as upgrades to each monkey, providing bonuses such as an increase in rate of fire, or unlocking a special double jump ability!
The Combo System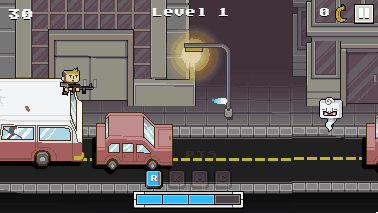 Shoot & slash enemies continuously maintain a combo. The larger your combo is, the more points you get at the end of it. You must only take mere seconds between each hit, to count as part of a combo.
Once a long combo is broken, the environment will change and you will face new enemies and terrain.
The 4-Monkey System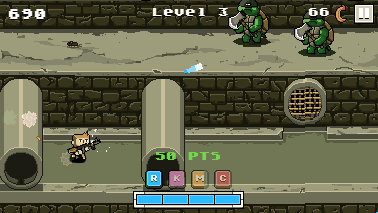 You are be able to swipe the screen upwards and downwards to switch between monkeys. It is an interesting mechanic, and a new concept, never before done in an endless runner game!

Each Monkey has their own Health Bar and you lose the game when all 4 monkeys die, or when you get pushed out of the screen.
The Hat System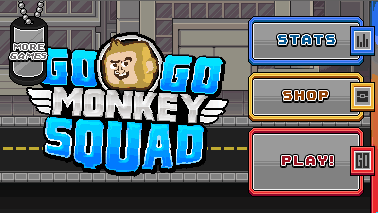 Each monkey can equip one hat item at once. Each hat has a unique design, and works as a unique upgrade to that monkey. For example, Equip Rico with a Cybotech Visor, and you may increase his attack range. Equip Malfozzo with a wizard hat, and he will shoot ice attacks instead of fire attacks. We're still looking into possibilities!
Interactive Enemies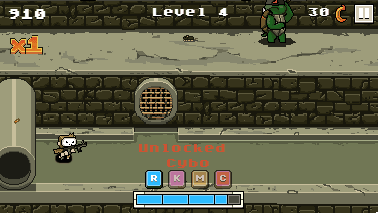 We spend time and thought into each enemy and right now, we have an arsenal of enemies and ideas for enemies that involve more complex mechanics than simply - shoot this and it dies. We have Spike Turtles which die but remain as a "spike" obstacle. Bandit Turtles which throw axes while they are alive, but become a tool to attack enemies once they die!
We want to make each enemy special, and make the in-game experience truly challenging with replay value.
But while he is working on the game, he will try not to be under the influence of alchohol.

We're working on this full-time right now, we spend all our time creating a game that we hope you will want to play! We don't have any income, besides the money we earn from freelance work!Despite this, we would really like to work with other artists, animators and musicians to create content for the game.Right now we've got a gameplay demo fleshed out, and we have developed 2 levels and created art assets for another 3 out of the final 10 we're aiming for before release. We have no finalised Sound Effects and Music, and there is still a ton of polishing to do.Your contribution will matter a lot to us now as it will allow us to focus all our time into developing the game.It will allow us to hire a musician to create some great soundtracks for the game, it will take the burden off the licenses we need to purchase and so much more.