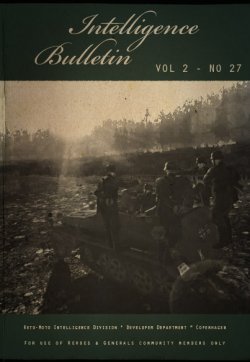 This week we performed a successful server stress test, where we had more than 800 players logged in at the same time without the servers crashing! This is a major milestone for us, and we look forward to the next stress test where we want to have even more players in at the same time. But before we invite you all for a new stress test, we need to work at fixing some of the smaller issues we discovered during the stress test.
Once more we would like to welcome to all the new players who has joined us since we sent 8000 new keys for the stress test, and thanks to the veteran players for your efforts in helping new players!
Right now our focus is to make the game able to scale to more users and easier to understand and play for new users, so this also means that there won't be any new maps, characters, vehicles and weapons for a while. We do have a lot of new stuff planned for and in the pipeline, but we believe that it's better to take what we have right now and make it work properly and to eliminate as many of the current bugs as possible before we pour a lot of new content in the game. So there is a lot of work going on "behind the scenes", which might not be visible to you when you play the game, but it makes the game more solid and stable.
However, there are a couple of new "visible" features we hope to be able to deploy in the upcoming Eisenhower build, which is 16 vs 16 missions, 2nd version of the mission lobby, the new installer, and a whole lot of small fixes and improvements to the Campaign.
Do you want to receive the weekly Intelligence Bulletin by email? Then go to your Account settings, press 'Change account settings', check 'I want to receive weekly development updates' and press save!
Propaganda this Week

Heroes & Generals – Beta Videolog 3: Crace & Dietl showing character ranks, mission lobby and a preview of an upcoming single-player mission.
Developer Blogs this Week
By Reto.Hansg, IT Admin
"It is critical to the game that the network is running fast and that we don't have network delay on the routers in the network to you. So when we order new servers we need to test the stability and the hosting providers network speed to check that it will deliver as planned." Read More
By Reto.Dave, Environment/Props/Concept Artist
"I'm currently working on symbols for Assault Team Insignias, and I thought that I would give you a glimse of what i've done so far (it's still work in progress though)." Read More
"The server stress test Yesterday was quite successfull in the sense that the servers didn't crash, even though we had more than 800 players logged in at the same time. In total we had more than 2000 players who successfully logged in from 18.00- 22.00 UTC" Read More
"We need more recruits! 8000 Beta-keys has just been sent by email, and we've also sent a "reminder-mail" to those who hasn't activated their key during the Alpha-phase." Read More
By Reto.Goonstah, Programmer and Technical Lead
"One of the areas we focuse on now is to increase the amount of users our servers can handle at once. This goes for both the action servers (currently limited to 24 people per battle) and the strategy game servers. This post is about the strategy servers." Read More
Team Debriefing
Design


Reto.Fleck, Level Designer
"Still working occasionally on a new level – besides fixing graphic bugs on our current. Also designing on 'Easy Access' – more about that later…. :)"




Reto.Robotron3000, Community Manager & Game Designer
"Working on a way to explain how weapons work (precision, rate of fire etc) so we can display the data in a meaningful way for players, working on stats/leaderboards design, minor oddities with forum & blog backend are fixed."

Artists


Reto.Hr.Wille, 3D Artist
"This week I have been testing the new version of our main graphics software, Softimage.
Also done mock-ups of the new in game chat area and the in game ribbons and combat badge award screen."




Reto.Mato, Lead Character Artist
"This week I'm making Street Lights."




Reto.Owleater, Character Designer
"Making elements to play with to do rubble. Muuhhaarrr!!!"




Reto.Colding, Lead Animator
"This week I have been working on exit paratrooper animations for the Junkers transport plane – also I have worked on optimizing some of my workflow tools."




Reto.Dave, Environment/Props/Concept Artist
"I've been making Insignias and xml files to go with them ;)"

Coders & QA


Reto.Goonstah, Programmer and Technical Lead
"- Work on the chat server
- Work on the installer
- Various bugfixes"



Reto.Hal9k, Render Programmer
"Lobby iteration for Eisenhower"




Reto.Ogssan, Gameplay Programmer
"* Remove default characters
* Replay tool tweaks and fixes
* HUD fixes
* Optimizations"




Reto.Leto, Gameplay Programmer
"I've been looking at improving the load times and overall performance"




Reto.Injection, Senior Programmer
"db fixes.
linux fixes.
hng fixes "




Reto.Splixxen, Lead Tester
"- Reproduce bugs
- Verify fixes
- Test installer
- Test on Window8
- Support"




Reto.Indusninja, IT Architect
"- fix bug when retreating
- allow action server to re-request settings for a mission
- re-organize fighter plane movement code"




Reto.Vashu, Flash Programmer
"- Profiled the Flash solution for performance issues
- Reworked Destination Markers to use flag (Eisenhower)
- Reworked The arrow to move Assault Teams (Eisenhower)
- Reworked Multimarkers (Eisenhower)
- Removed several heavy animations from the Strategic Map to increase performance (Eisenhower)
- Fixed buggy movement of Air units (Eisenhower)
- Looked into Chat performance, researched possible alternatives"




Reto.masterdisaster17, Server Programmer
"Finally deployed the new storage backend to dev ,spent some time running through the performance data from this weeks stress test. Now spending my time streamlining some internal db functions."

Sound


Reto.Draebesmoelf, Lead Sound Designer
"Several of the weapon reload sounds were not playing correctly, that has now been fixed. Besides that other reload sounds have been added, edited or replaced."




Reto.Lord, Audio Programmer
"- work on mission lobby. The player now has an active(selected) character. The mission list is filtered based on what mission the selected character can play
- started threaded fmod resource initialization to speed up load time"

Management, IT & support


Reto.Hansg, IT Admin
"1. Perforce-slave setup done. test test….
2. Setup nagios monitoring of perforce servere. master+slave.
3. Disk stat on Russian servers to monitor the disk IO. (iostat)
4. Various ad hock."




Reto.KenSolo, PR Manager
"I finished and published the latest videolog and sent a whole bunch of mails to new players, to existing players and to the press… And I'm almost finished with a 'Beta-key queue survey" we wish to offer players waiting for their key. The idea is that if you fill out the survey you'll get a higher priority in the betakey queue, thereby improving your chances of getting a betakey next time we send out new keys."




Reto.Lusa, Project Coordinator
"- Coordinated the team.
- Held a couple of meetings.
- Collected feedback from the dev team from the stress test this week.
- Researched a new project management tool."
NOTICE
The Intelligence Bulletin is designed primarily for the use of the members of the Heroes & Generals community. It is a vehicle for the dissemination to them of the latest information received from Reto-Moto Intelligence sources about the development of Heroes & Generals. Readers are invited to comment on the use that they are making of the Intelligence Bulletin and to forward suggestions for future issues.
Reto-Moto Intelligence Division,
Developer Department