I thought tonight I will talk a little about away missions. Were you can send them, what they do once they arrive. Everyone has being bringing some good input on that in the last few days and I want to show you guys what I have incorporated from those ideas thus far. I think first it best to introduce you to your crew types!

Marine: This guy hits the ground running, They are your first line of defense (or offense when needed) Armed with the latest in pixel hand weaponry, when selected, this guy can dole out some damage where need be. I would also like to point out he is in a "Red Shirt" and i think we all know what that can mean. So keep that in mind when you have him charge into well, whatever!
Science: The blue shirts like to research and examine stuff, of course he is the guy to tell you that their is a 12.453847592% chance of this or that. In Tiny Trek the science officer on a away mission is to use the trusty scanner to locate cool things that might be useful or interesting or perhaps even dangerous. With the scanner you can scan specific items that have a scan icon appear when near to them. He is also the one who collects the samples and brings them back to the ship be stored in the cargo bay.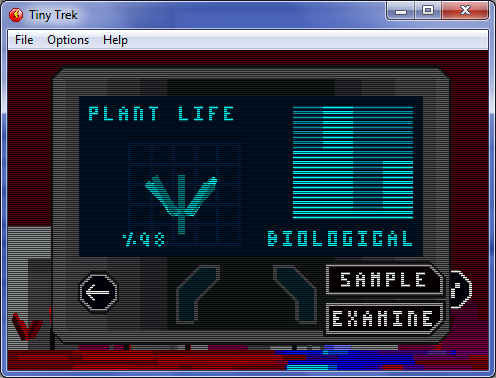 Repair: The Repair officer uses his fancy repair tool to open doors, fix busted control panels, and interact with any kind of machinery you find. The Repair officer also is the one who can mark minerals for mining, which will be transferred back to your cargo hold when done.
Command: The Yellow shirts main function is to communicate or negotiate with other sentient species. They are highly adapted to handle exchanges and trade. When you need to conduct some business, sending one of these guys will certainly help.
Medical: If you remember we do have red shirts in the game, and they have a tendency to, well you know. With a Medical Officer on the team he can heal people hurt on the mission helping to ensure in dangerous situations that they can succeed. Their is also the possibility we can get the engine to allow the Medical officer to heal npc's adding more depth to the episode generation options.
Some things I have added or beginning to code since reading your comments are reflected in part in the next image. You will notice that now we have three HUD boxes at the top. These will store the names of the characters sent down to the planet. The hope is I can give you the option to name you officers and they will have health points and can earn experience that will improve overall efficiency on your ship.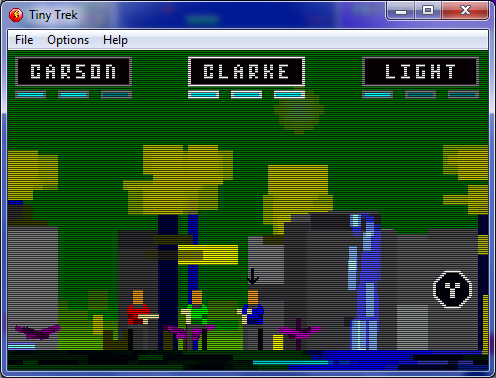 I think this can be a nice addition and deeper fleshing out of my original idea. Just a note I won't be providing a very deep micro managing mechanic to the crew. But I do see value in personalizing them and giving them some progress and growth. I am uncertain about perma death and recruiting replacements. I believe I am looking at incapacitation during a mission and if so they earn no experience. But if one party member at least remains and the away team makes it back, then the advanced technologies on your vessel will revive them and return them to duty.
I look forward to your thoughts!
If you haven't checked Tiny Trek out yet, please visit our Kickstarter at, Kickstarter.com