Fall from Heaven II has finally released it's final version, that is to say it's feature complete, after 3 years of development. Those of you who consider yourselves regulars of ModDB may still be scratching your heads in confusion over this mod. This is the part where I say it's for Civilization IV: Beyond the Sword and you go, "Ohhh ok," and then turn around in search of something with some pew-pew in it. Seriously though, Fall from Heaven is the most popular mod for Civ 4. It's even made it to the top of the popular mods list here on ModDB without making a release post. That in itself is a feat that speaks to the quality of the mod.
I've installed the mod and invested a couple hours into it so far and only scratched the surface. The amount of custom content and added features is staggering (Check out their profile for details). Unfortunately, being somewhat of a Civ 4 noob and having a no time to set aside for epic campaigns until after MOTY ends, I can't fully explore everything this mod has to offer. So far though, it's a definite recommended download for Civ 4 and strategy game fans alike. I know those may be few and far between here on ModDB, but it's nice to step away from the shooters every once in a while for a change of pace.
Furthermore, and this is something that can appeal to all developers out there, how many of you can say you've been interviewed by the project lead of the very game you set out to make a mod on? Soren Johnson, the project lead and lead designer for Civ 4 among other games (Civ 2, Spore) posted a 3-part dialogue with the developers of Fall which discusses the history behind the mod, postmortem reflections and even some critiques from Soren himself. It's worthwhile reading for all developers out there, regardless of your stance on the Civ games or Fall from Heaven II.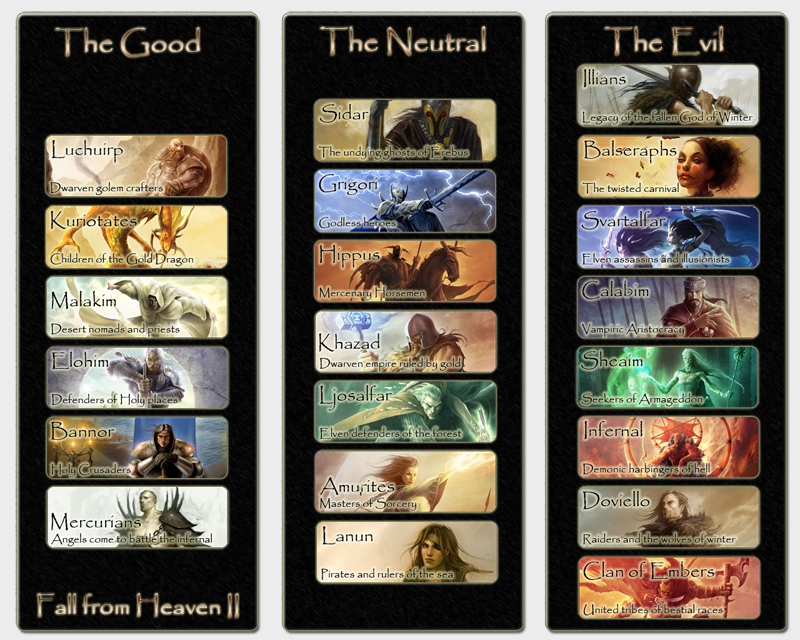 All 21 races included in Fall from Heaven II