Greeve : The Adventure Begins is a exploration-focused 2D Action Platformer game with deep storyline, based on Metroidvinia and Adventure genre with tons of Actions, Secretes and combine with a little bit of RPG mechanism.
Set in a fantasy world called Vytheas, the game has 4 maps : Grin Gard, Vor World, Eby Canyon, and Dom Dawn. the story is about the Son of the God Father Vytheas. His name is Greeve, was born to be a King.
Until that night arrives. Russler Devonshire with monster came to destroy and seize the Faith. Faith itself can make Russler is become immortal. That Faith was owned by Greeve's Father (Tara) and Mother (Ava).
it became a horrible night in the darkness. where there are forces of darkness, the water became muddy, barren forest, devastation struck. Greeve is still safe because he was hid by his parents in a core of a tree before the war is come.The Crux has Guardian of Galaxy called Cleo. Cleo has the power to see the future and the past. She know about the ruthlessness of Russler Devonshire. She came and saw Vytheas became hopeless, Cleo use her power to see the past and the future of Vytheas. night war and destruction,but she heard the breath of the hope is still alive and safe in the core of a tree. The Hope is Greeve.
TRAILER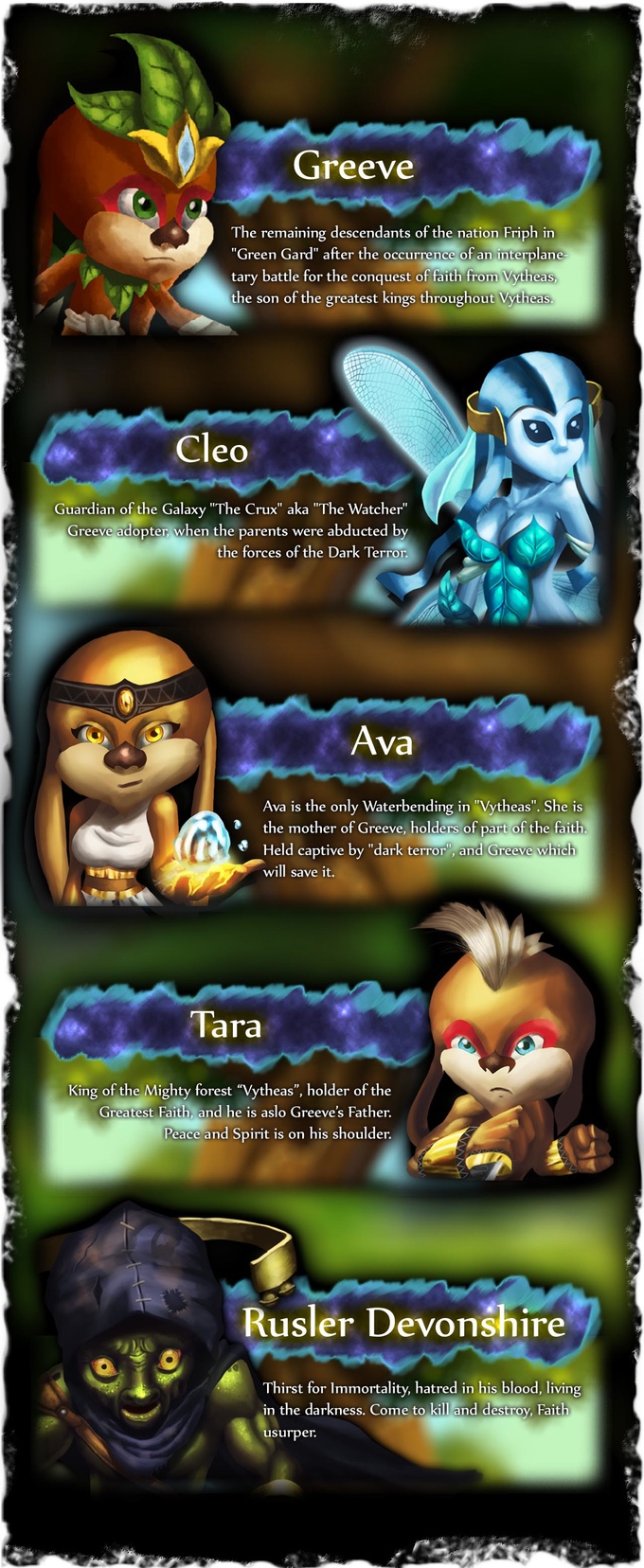 Gameplay
Action and Tactics
Platformer side scrolling
Role play
Exploration
Metroidvinia
Skill tree
Special Combat
Find the secret
Level Up
Boss Battle
Key Features
See things from the other side, two different worlds
An expansive world filled with surprise attack
Special combat and combo
Tons of Action
Many skills in the game, combine with RPG
Multiple boss characters, wide range of foes, and elite-class enemies
Fight the Darkness
The game is currently planned for release on PC, trough Steam.
We really need your help for developing this game into other platforms such as Mac and Linux. Its mentioned in our stretch goals !
This game idea come from team experiences who played so many great games like Dust - An Elysian Tail, Giana Sisters, Trine, Tarzan, Crash Bandicoot, Shank, Child of Light, and Ori and The Blind Forest. they're so really great games with a impressive mechanism and beautiful graphics, make the game really fun and mesmerizing to play. We want to recreate that experience from playing those games into our own universe with our own original touches and ideas.
Our Project is also already live on KICKSTARTER ! SUPPORT US !
Also Help us Greelit on STEAM