Greenlight fee
Winning Indie Dev Grant was a perfect opportunity to pay my fees so I can enter world of the Steam Greenlight. It will take a while before I send my project there but I'm step closer to that now :)
---
Crows doing kraa-kraa-kraa
No, sound is still not in the game but I have crows flying around in. You'll find these in storyline map (you'll have bats in the crypts, don't worry) - they will be hanging around on the trees, church's bell tower, fences, etc. When you get close to them, they simply fly away leaving scary kraa-kraa voice behind.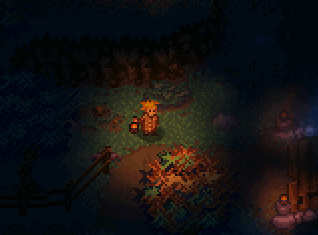 ---
Dialogues:

I took few tries on the dialogues window (borders, font, text, colors...) and this was my final try. I won't stop here because I'm still not satisfied with it - I don't know, I just wanted to show you some mockups.
PS: Yes, "heared" is spelled wrong :P
---
Environment stuff
I'm working hard on storyline map because I really want to finish this intro to the game. I'm not handing out any preview copies until this is done - you can't put player in some random crypts and assume that he/she knows what's going on. Here, few examples: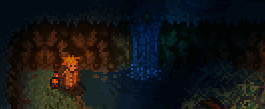 Just chillin' at the tiny waterfall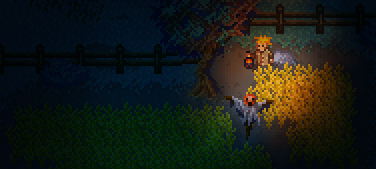 Scarecrow - because every spooky scene must have one


Scarecrow for the seconds time
If you like reading details of the development, you can always fly through the more detailed weekly blog post.
---
What's next on the plan

More art (obviously)

Environment
Grave digger infront of the church
Old hag
Old Hag's cottage improvements

Coding dialogue system

Optional: video of environment in action
---
QUESTION:
What do you think of everything so far? Do you like where game is going? Do you have any concerns? I would love hearing from you!