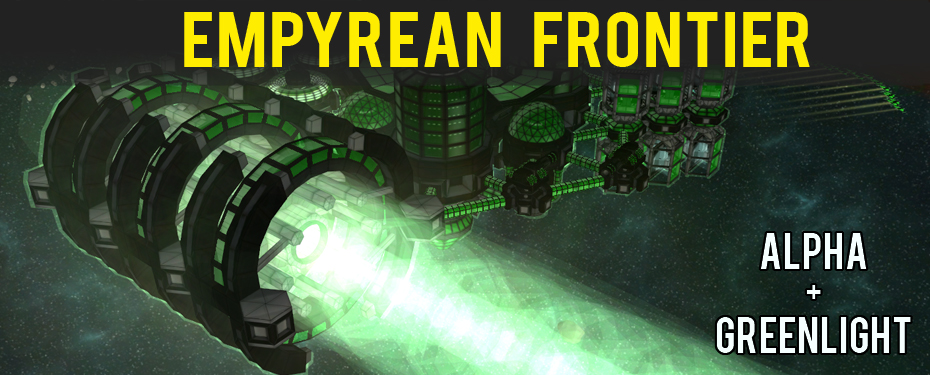 Empyrean Frontier has finally made its way onto Steam Greenlight. The game has come a long way since the previous pre-alpha demos and I'm glad to announce the greenlight campaign, an alpha trailer, and a new demo.
The new demo includes a full tutorial and 2 skirmish maps that are playable as the Empire faction (the Union is unlocked in the full Alpha release.) Since the last pre-alpha demo, the game has seen a long list of improvements, including engine and graphical improvements, a better GUI, and greatly improved enemy AI.
The game is also available for alpha purchase through itch.io and the official website. The full game includes additional content (play as both factions, solar system conquest mode, and additional maps) and will grant access to all future updates and a Steam key if/when the game arrives on Steam.
Below is a list of current and planned features for the game.
Current Features:
Two Unique Playable Factions
Intuitive Control Scheme
Draw custom formations
Full featured RTS Interface
Intelligent AI
AI Strategically reacts to player actions
Tactical AI formations
No resource or vision cheats
Command Massive Fleets
Battle with hundreds of ships
16+ unit types
Base building
Superweapons
Conquer an Empire
Fight for territory in a real time campaign
Alpha Roadmap
Game Features:
Unit Upgrades
Unit Veterancy
Random Map Generator
(also more preset maps with support for more players)
Additional Unit types
advanced fighter groups, more building modules, and maybe hero units
Additional Unit Abilities
a few units already have active or passive effects, but I intend to add more, as well as a better GUI for displaying passive abilities (tractor beams for example already apply a firing rate debuff, but the interface doesn't notify the player)
Game Modes:
"Quick Start" System Skirmish
solar system skirmishes where each player starts already in control of a preset territory
Procedural Campaign
longer campaign similar to Solar System skirmishes but the player takes a single fleet through a series of procedurally generated missions
Story Campaign
traditional RTS campaign with scripted missions (might be cut in favor of Procedural Campaign)
Arcade
extra game modes such as tower defense, tug of war, wave defense, and others (possibly with a level editor)
Engine Features:
Save/Load Games
Rebindable Hotkeys
Improved Effects
better explosions, particles, engine trail effects
More Destruction Animations
larger units will have more detailed destruction effects
Improved Movement/Pathfinding
Overall Graphical Improvements
AI Improvements
the easy/normal skirmish AI are in a pretty good state, but there are a few extra features I'd like to add for hard AI, as well as improving the solar system skirmish AI