Before we get started, I want to make a point that there is no exact release date, but expect it coming this year (that is, if everything goes to plan). I am still adding the finishing touches, like adding the final levels, and maybe (MAYBE) re-editing the chaingun sprites. Other than that, we are ready to go!
About sequels, we may, or may not, make a sequel, but if we do, we are going to use a more complex engine (maybe the Doom engine). Also, if we make a sequel, chances are we are going to use more HD sprites. But for now, we are unsure of a sequel.
As for jobs, we may need a sound FX artist, and a person who is trained to use the Doom Builder. That doesn't mean we will make a sequel, it just means I'm making a new game, not a direct sequel to Wolfenstein Portable.
Now it's time for the bad news...
despite the progress, recently my computer was acting up on me, so i had to do a reinstall. Usually I keep my pak file's password blank, so I don't forget, but I don't know for sure. It's been a while since I checked, and I have to re-download the engine I'm using, so for now I'm unsure. Iv'e been pretty busy recently (football, homework, birthday, etc.). Like everyone, I have priorities. God goes first, then family, then school, etc. I just didn't have alot of time to work on video games. But with the holiday season coming, things have been calming down (football season is over [we were second round playoff runner ups!], school is getting more normal and less hectic, etc.)., I'll have more time to work on the game.
Now that that's out of the way, let's get back to the good news. We are closer than ever to having a full release, and Christmas is coming! To cheer things up, Here are some screenies: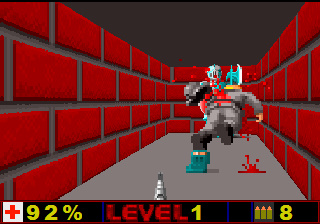 Some gore...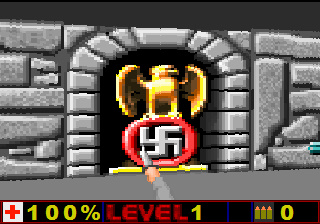 Knife demonstration.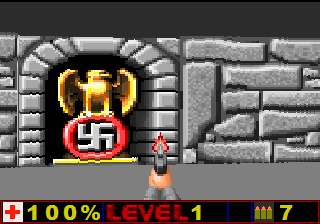 Pistol demonstration.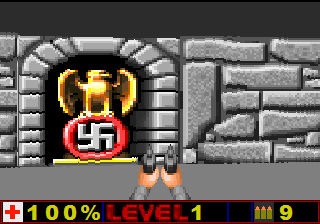 Double Pistol demonstration.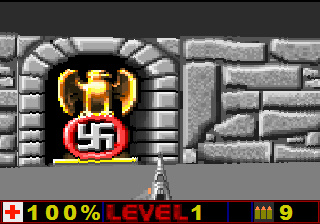 MP40 (or Machine Gun) demonstration.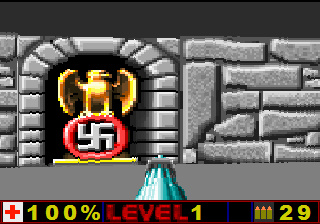 And finally, the BFG9000 of the Wolfenstein generation, the one, and and only, Chaingun.
Weapon Stats:
The pistol is the weakest, and standard gun of the whole game. You can't get any more weaker than this. It deals small damage and has a low to medium fire rate. Despite all this, it is still great for killing of guards to save your BFG900-- I mean chaingun, ammo.
Next is the knife. It has the lowest fire rate in the game, and has the lowest range, too. But believe it or not, unlike Wolfenstein 3D, it is one of the most powerful guns in the game. It deals far more damage that any other weapon. The only drawback is it's rate of fire.
Third is the MP40 Machine Gun. This is basically a fast pistol. Not much to say.
Fourth is the double pistol. When you find it, it appears as a regular pistol, but if you grab it, while having the first pistol, it gives you two! You still have the option to use one pistol, but why in the world would you do that if you have two?!
The last, but by ALL means not the least, is the BFG9-- dang it! I mean the Chaingun. This overpowered beast has the fastest firerate, strongest power, and the best looks out of all the rest. This big daddy brings all the other weapons to shame. This gun is so fast, you need a decent computer to keep up with its framerate (really, you do). This gun is seems to good to be true, doesn't it. Guess what? You're right.
Because of its epic fire rate, it's easy to run out of ammo, so be careful...
Overview:
That's basically it. We've come a long way (almost a year of development) but we are finally here. Please leave any questions in the comments below.