Hello again. Look at this picture: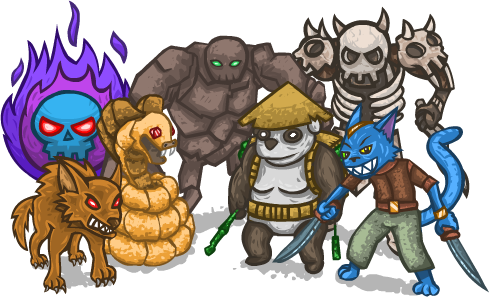 Here it is, neutral monsters!
1. Mud golem: stuns himself after attacking. But his damage is very big. No. BIG!
2. Wisp (flying skull): sacrifices his health and damages all heroes. Purse his targets until stunned.
3. Murlyka warrior (blue cat): descreases resistance and health regeneration after each hit
4. Sand cobra: poisons target. Poison stacks (really, danger!)
5. Grey wolf: Improves allies critical chance after death. Stacks to 95%
6. Pandaaaaaa: Can't counterattack and can't be counterattacked
7. Necromancer (non-neutral): Curse - damages hero when turn begun.
Thats all, guys and girl! Today i finished translating game into English (itz vry awful, yez).
I'm very glad to read any comments about all of this. Bye!