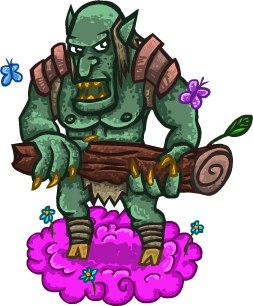 Hello, boy and girls, wrrroof!
1. I place some achievments in game. which improves players effectiveness on the global map. For example, achievments can increase chance to see forge cell instead of any grass/forest cell. Very useful.
2. there is no need to walkthrough all over the map, you can do it partly, cause between battles autosave included.
3. You can use items only in battles, but heroes health regenerates on the map by opening empty cells (a bit) and you gain more health after opening fountain cell. Achievments can improve heal power and chance to find fountaing, as i say before.
4. You can choose: fight or flee (have a chance) before the battle. But you cant flee boss battle, because finding a boss ends the stage, won you or lose - no matters. Several types of bosses in the game: alone boss (tinker king, orden) or mob boss (troll (on the picture), elite monsters).
Thats all for now, thank you for reading!