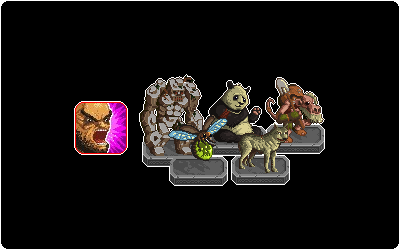 Hi there! Today i tell you about neutral monsters of Defenderia! On the picture you can see 5 monsters and a little bonus - Eidos Provocation Skills' icon. Yeah, now, about neutrals and their abilities.
1. Wolf. Careful! Pack of wolves can kill any hero just by one hit! Why? Cause wolf improve critical damage of all nearby wolves. Yeah, x7 critical damage! Arrghhh!
2. Wisp. yes, i call it Wisp, but, in fact, you can call it 'Bee-with-skull-on-ass'. Okay. On hit wisp casts 'Dream' spell, which put targeted hero to sleep for 2 turns. Pack of wisps = level restart, if you have bad luck.
3. Mud golem. Very powerful creature, but slow. Golem hits 1 time per 2 turns. And you know, what? You cant deal more than 1 damage for first 5 hits. Then, golems armor becomes 0 for 2 turns, and you know what to do, ye?
4. Kobold. Ha, thiefs. they steal 1 gold on every hit, and improves their attack. dont care, they have 40 or 50 hp only, you can kill them fast. but if not... ha, no, you can.
5. Panda of goooooodness. True neutral monster. Have very powerful ability: Goooodness Pandas' claw. Deals 0.1xAGR damage to hero and nullifies all targets agression. For example, if Torwald have 250hp and 1000 agression (its simple to generate it), Panda deals 1000*0.1+10 (const)=110 DMG
Thats all, folks! Whats next? Interface, icons, other heroes (Envy Hammersmash, Ken Cannonford, Akyl Electrokhan, Hiro Katanayagi, Cobain Ragethrottle, Chan Jetmonk), gameplay video.
Thx for reading!