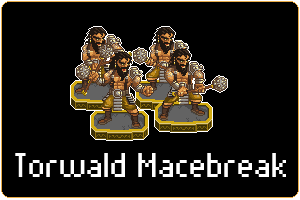 Hi there! Today i tell you about Torwald, second defender of Defenderia. He is a not classic MMROPG tank, like Edios, he have very agressive style of fighting. Now, what he do?
1. Mace. He attacks using big mace. Improving this skill gives more DMG and AP.
2. Sexy Body Armor. Yeah, Torwald build his body and wants that everybody can see his muscles! Improving this skill gives more Health and Defense.
3. True Warrior! After using Torwald improves his attack DMG for every 1 AP and heals himself by 5% for every 1 AP. Increases agression a bit.
4. Torwalds Smash. Simple strong smash, deals >2x DMG, 10% chance to stun.
5. More agression. Passive skill, which generates a lot of agression, when enemy hits Torwald. But all agression gone if Torwald does not fight.
6. Sharp defense. Torwald reflects 10% of damage, cannot be passively used more, that 3 times in one turn.
And now all enemies have 'Initiative' parameter. It means that enemies have priority of their action.
Thats all, thanks!