By the boat there were parameters:
Fuel (fuel oil);
Capacity of batteries;
Oxygen volume;
Damages.
Fuel.
Fuel is spent if the boat moves in a surfaced state. The speed is higher, the fuel is quicker spent.
On a panel of parameters and characteristics it is designated by the canister.
Battery.
It is the electric power on which the electric motor when the boat is under water feeds and there is no opportunity to use the main diesel. Batteries unfortunately by small boats were the small capacity that doesn't allow to cross the ocean in the dipped status. The expenditure of batteries too depends on speed. Energy is spent quicker than fuel oil!
Oxygen.
By the boat there is a certain inventory of oxygen which has property to come to an end, being processed gradually in carbonic acid. Now there is no CO2 parameter, but it is temporal. I hope that I will enter an index soon and everything becomes a little more difficult. Oxygen is spent not so quickly, and it suffices on long. It allows to lie on soil without movement quite long time.
Damages.
Monitoring of damages while is feeble. In total that becomes, it blastings on mines, collisions with soil and other solid bodies are fixed. The speed at which there was a collision is higher, the shock more loss is stronger.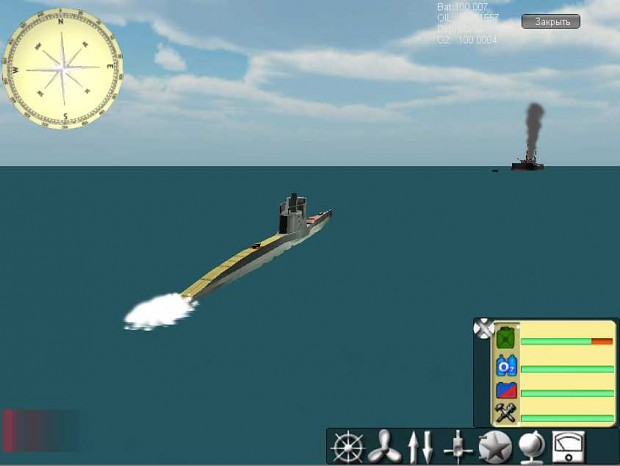 This beginning of a stage of formation of parameters - a basis. Dependences and influences will be expanded. First, the expenditure of batteries will be increased, it will be reached at the expense of the accounting of the used equipment. Each electrical installation requires the electricity, respectively every time as the player will use electrical devices, it will reduce the capacity of batteries. I assume that the list of such devices will be wide. But I hope that will be possible and to make manual, not the electrical control allowing the player to select a method of control the manual/electrical. So the player will be able to regulate the battery expenditure itself.
With damages too not everything is simple. First, the modular loss is scheduled. It means that every time as the ship receives a serious loss, aggregates and modules will be surely damaged, functionality will decrease. Certainly opportunity and repair of damages is provided, but not it is possible to repair all damages. About all additions it will be told in addition, in process of their completion or implementation.
As a lot of time should be spent developing possibility of game on different screens. After test of test assembly, it was clarified that on one screens the image looks as it is necessary, and on others it is awful and wrong. About a week should be spent for a problem and its elimination. As a result we have possibility of game using different screens on permission and quality of the picture.