Hey all, I've been wanting to write a blog post to highlight the most recent changes in Final Slam 2. The changes are not that big. However, after making the changes and trying out the game, I personally found that the changes are quite significant. What changes am I talking about?
1. Bloodstains
2. Publishing for Mac
The second change is just to make the game playable on another platform. Which isn't much of a change to the game itself. Some testing is still going on. But the first change has a bigger impact.
Months ago, the game was all playable with a few blood effects. The fighters would be seen having blood coming out of their heads/mouths when they got attacked. But a friend of mine pointed out that more blood was needed. So I added in blood drops that would actually come out of their heads and stain the ground/floor. That added a lot of difference to the game. But then recently, I was playing the game in "Power Finish" mode, which meant that the match could not be ended with a mere cheap move. That mode was designed to let the player have the thrill of punishing their opponent to their satisfaction. I was beating a guy up and the whole floor was red with blood. But I couldn't just shake the feeling off that something was just missing. Then it hit me when I finally ended the match and the opponent crumbled to the ground. He was lying in a pull of his own blood, but he himself was spotlessly clean! So I knew what I had to do. I had to make a punished fighter all red with blood, something that a lot of fighting games lack. I spent a day making that happen, tweaking the codes, drawing the bloodstains... And the results? A completely different feel!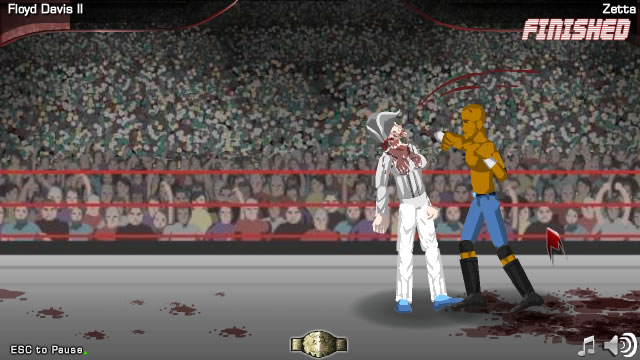 First, when you enter a fight, you are clean. But then as you (or your opponent) get(s) beaten up, bloodspots start to show, and they get bigger and bigger until toward the end of the match, at certain times you would get a fighter with his whole face and chest bloodied up. The feeling you would get is something that is completely different from before I added in this feature. There is a realistic sense of a fight, like watching a Kickboxer movie. And not to mention the awesome feeling that you are gonna feel when your opponent is all red. And not to forget the feeling that you'll get when your fighter is all bloodied up, but in the end, you still manage to win the fight!
About the Game
Final Slam 2 is a game where you can create your own fighters with tons of options to choose from, and fight in Arcade, Season and Versus modes. You can even share your created fighters online with other players. The game would be released soon. The estimated release date is around December 20th, 2013. It will be downloadable, and for Windows, with a Mac version available in the future.