Forests and beaches, oceans and swamps: it's not a bad nursery rhyme, they are just a few of the different terrains that can be encountered in Standed Pigs. The landscape is variegate and in every procedurally-generated island multiple biomes can appear. Larger islands can even contain all the possible biomes! In this article we'll take a quick look at each one of them, analyzing potential danger or benefit.
The sand. It's common sense: when there is an island there is a beach, and when there is a beach there is some sand. So sand is quite a common terrain. It is home to dangerous things like quicksands but at the same time beaches are a very good place to relax. Who doesn't want to stop for a while under a beach umbrella, for example?
The grassland. The grassland is one of the most common biomes and surely one of the most helpful too: plants and fruits grow here, source of food and health. There are also bushes to hide in and traps to set to capture the enemies... it's actually one of the best biomes all around and every island who has some grassland in it will surely be a little easier to survive!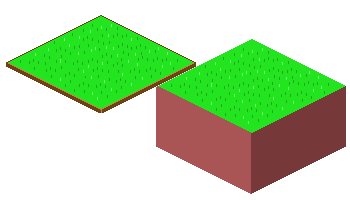 A grass terrain and a block.
The forest. A terrain similar to the grassland, it can offer even more valuable secrets if one pays attention to their surroundings. This is especially true during rainy days, when mushrooms may grow up somewhere...
The wasteland. Barren and desolate, this type of terrain has not much food to offer, or any other resource for that matter.
The swamp. Great dangers can be found in a swamp so it's always a good idea to approach this biome carefully. The most annoying thing, however, is being slowed down by the muddy terrain under your feet: this can be troublesome if you are trying to run away from enemy! It also may be worthwhile to take a look at the mysterious tombs that sometimes appear in this place…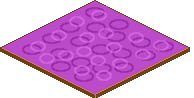 Ice biome. This is the opposite of the swamp: here the terrain is slippery and it may be difficult to control your movements, so be careful not to accidentally run into a fatal trap or into the mouth of an enemy!
Last but not least, let's not forget the ocean! Ok, more than a biome this is an obstacle, because so far no pig has learned to swim...