Hi guys!
This news is a bit lately but sure it should be here!
Exoplanet:First Contact has been Greenlit!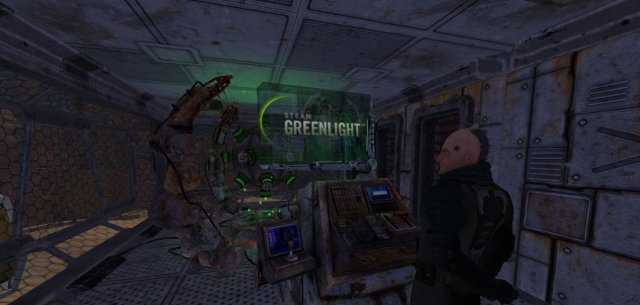 Exoplanet was represented on Greenlight from the very first days of existence of this Steam's part (362 days in total now, almost a year). We started at the 6th position, right on the 1st page with the old display system which was bound to the rating of the game. Then Steam changed the rules and the top rated games didn't appear on the first page anymore, but Exoplanet was holding fast in the top 50 and was constantly rising to top 30 and above, jumping 10-12 positions up with each Steams approval for another 10-20 games. According to our predictions we were going to be Greenlit in Autumn anyway, but at the end of August Exoplanet surprisingly jumped to 18th place (and there are more than 1500 games trying to get Steam's approval for Greenlight now!). On 28th August Steam decided to Greenlit 100 titles at once and Exoplanet: First Contact was amongst them. We did it! You did it, guys!
All of you who supported us, who helped us to promote the game and gave us lots of feedback and constructive criticism, all players who love good games and are ready to defend their interests. Those who voted for us on Greenlight and different internet sites and those who did even more by preordering the game at this early stage of development – you are amazing! It is you, who made this big step towards the games success to be possible, who gave us the motivation to overcome all difficulties. We are proud to have such great community of active and cool people gathered around Exoplanet, people who have trust in us, in our ideas and dreams. We are making our best to justify this trust and make a game with the strong hart and living soul of the great RPGs of the past we all hold dear!
At the moment we are quite busy with the submission process and preparing all necessary info for the launch on steam, also managing some legal and technical issues which are quite new to us so we proceed cautiously. Nonetheless our team continues its work on the next update, approaching an important milestone in the development of the new massive level and first quests.
You can support the development and get access to the playable alpha and all updates including final game when it will be released.
Thanks a lot for your interest and support!