Gameplay video
I've uploaded a video of the new version here (I recommend that you check out the end on how I trap and kills Impanzees :D)
How to play video
I've also uploaded a "how to play" video because the game is still in a alpha state and the game play may not be as intuitive as hoped.
The hydraulics
Pressure pad

When steped on by an enemy it will deliver pressure to its surroundings.
Hydraulics pipes

Used to transport pressure between the different hydraulics constructions.
Counter

Every time pressure reaches the counter it will switch on and off allowing pressure to pass through or not, this is an excellent way to count how many enemies you want to let through before enabling the traps.
Repeater

Only enables pressure in one direction, very good for creating loops.
Switch

Only allows pressure to go through in vertical direction if it gets pressure from another direction.
Movable wall

Excellent for trapping enemies and kill them of.
Cannon

When it gets pressure it will fire a flaming cannonball in the direction the cannon is facing.
Dynamite

Gives of a gigantic explotion destroying walls, foes and friends nearby when it gets pressure.
Tripwire (Will be included in the next version)
Just as the pressure pad it will activate when a creature steps on the tile, but this time it will fire a short pressure pulse for every enemy that steps on the wire surrounding the tile.
Inverter (Will be included in the next version)
This one will give of constant pressure in a certain direction, and will only stop this when it gets pressure from another direction.
In the next version I will put this evil dude in the game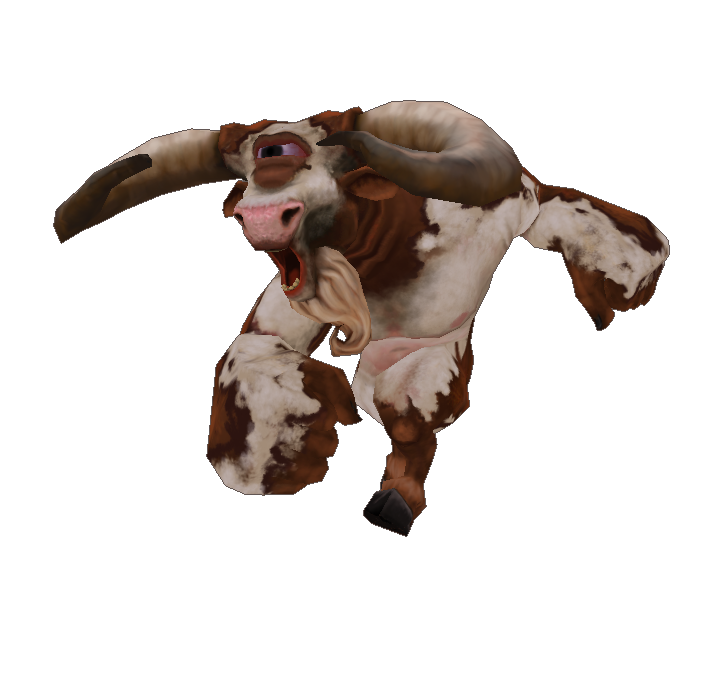 Somewhere on the map there will be a big maze filled with these Cyclotaurs, and for those of you that manage to solve the maze and kill of all the enemies gets to meet the Cyclotaur king in the centre of the maze, and he will be guarding a treasure that will unlock a secret.
Updates since last version
Bugfixes since alpha v0.5
Imps stop working, this is an issue I addressed in the section above. But it seems to be so common I will have to prioritise it as a bug.
If pressing ALT+Enter while the game is loading or in the intro will cause the screen to go black and not load the menu.
Go to topic
When playing in windowed mode, switching between other active windows may cause the game windows to go black but UI features still visible.
The Dark Dwarfs are switching between going to the bar and the rally flag.
It is possible to get a negative value in the creature menu, this can happen when a creature is killed.
Depending on the location and direction you can only build one bridge at a time (In dev mode).
Issues fixed since alpha v0.5
If an imp have built the wall there is always a chance that he will end up on the wrong side of it once it is finished.
The doors can still be built everywhere, never gets destroyed and let enemies in.
There can be a frame-rate decrease if you dig out many tiles and don't create any storage rooms, or if there are many creatures fighting each other in a big room.
Sometimes the Dwarfs or the Impanzees just stand there getting beaten up.
Impanzees can be loose in the Dark Mother room from start. Solve this by just generate a new map.
Generate new level doesn't reset the cameras position to the Dark Mother.
Two sets of numbers are shown in the items menu.
When hovering over a tile in the fog of war you can see what's there thanks to the text in the top of the screen.
The roots grow to much.
Enemy health bars are visible through fog of war.
Fog of war is totally squared if it is above water and the adjacent tile is visible.
Suggestions added since alpha v0.5 (all not shown here)
Lights add automatically as the imps claims new paths and walls, but still sell-able.
Room decoration button shows up in the centre of the circle right-click menu.
Home Key - Hotkey for quick moving the camera to Dark Mother's location.
Adding Load and Save to menu for being able to test game more efficient.
Thinking time for the imps before they decide to take on a new job.
Roots/Rocks requires a second digging, while digging still be automatically.