It has been a long time coming, but I'm pleased to announce that Dirk Dashing 2: E.V.I.L Eye is released!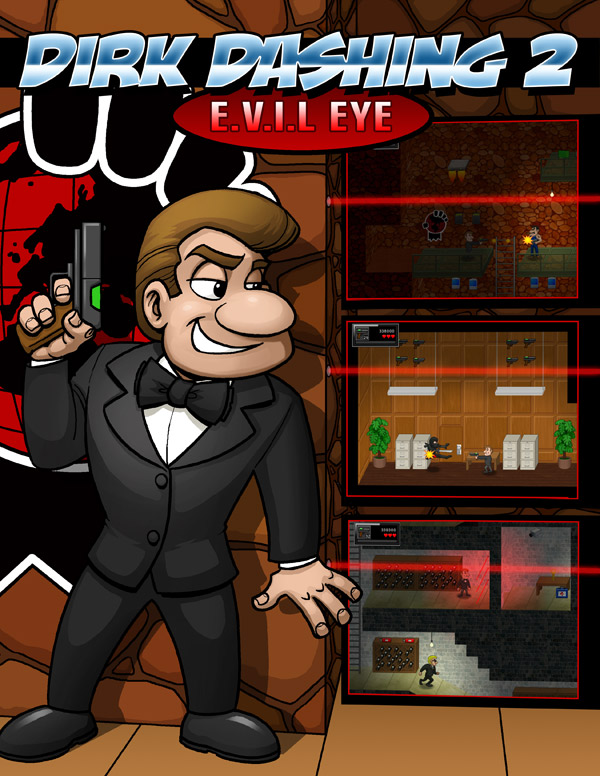 The final game includes:
40 huge levels to explore (including 5 secret levels), all packed with hidden areas and secret treasures to find.
Up to 4 bonuses you can earn at the end of each level, depending on how well you did. There's a health bonus (for getting through a level unharmed), a stealth bonus (for getting through a level without ever tripping the alarm), a secured area bonus (for neutralizing all enemies on a level), and a looter's bonus (for collecting 100% of the stuff on a level).
3 skill levels that provide new and different challenges - for example, the number, types, and placement of enemies differs on each skill level. Also, guards on the Normal skill level only shoot after the alarm goes off, but on the Hard skill level they shoot on sight. Guards don't shoot at all on the Easy skill level, which makes it easier for children or inexperienced gamers.
A plethora of ways to deal with enemies: you have tranquilizer darts and stun gas grenades in your inventory, you can jump on their heads, you can trick them into running into walls or off ledges, you can sneak past them in the dark, and more.
In short, the secrets & hidden stuff, the bonuses, the different skill levels, and the variety of tactics available to players should add a lot of replay value to the game.
I've done a lot of tweaking and polishing to the game since beta v0.9.2. One of the most noticeable changes can be seen when you first start the game: all of the game's menu graphics have been updated. The new graphics provide lettering with better contrast, so it's easier for color-blind players to read. Menu items that are disabled now appear unlit so you can tell they are disabled. The button text also matches the game's logo style, which I think looks better.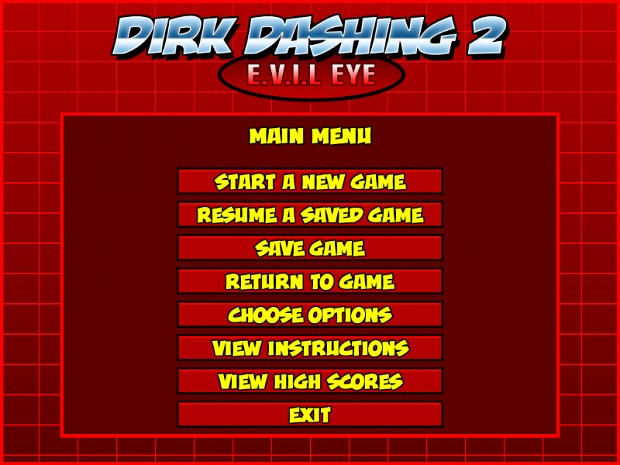 As for gameplay, there are way too many changes to count. But here are some of the highlights:
I've added some new animation so Dirk looks like he is pushing objects instead of running into them.
I've added an alarm icon that flashes in the upper right corner, to provide visual feedback for players who have their volume turned way down or their sound turned off.
I added the comics for the final game summary page, with 5 possible game endings. The different endings depend on whether you find and complete certain secret levels.
I added the remaining game music - 2 new tracks, available in the full version
You can now dismiss dialogue balloons with the space bar (Enter still works too).
You can now use the Backspace key to abort a level and return to the level selection screen.
Dirk Dashing 2: E.V.I.L Eye is available for Windows, Mac, and Linux for $19.99. A free 8-level demo is available, with 7 regular levels and 1 secret level.
A strategy guide will be available very soon, containing a walkthrough, full color maps of all the levels that reveal all of the secrets and hidden stuff, hints, tricks, concept art, and more.