Hi guys! In our first dev diary, we will layout the purpose of the mod and the new issues that we are adding in.
Uncertain Millenium seeks to be a accurate adaptation of the Modern World, with all it's inherent tensions and stresses, to the Victoria II engine. I initially considered creating this mod using the HOI IV system. However I found the HOI IV engine unsuitable to simulate the level of complexity and political gameplay that I wanted. HOI IV is more focused on a very specific era of warfare, whereas Victoria II's pop and political party system is far better suited to creating what I wanted.
This mod will use the excellent Cold War Enhancement (CWE) mod as a basis, as much of the basics needed for this mod have already been done using the CWE mod. This will save time on coding and creating the basic features and allow me to create the more advanced features I'd like to add.
I always liked the issues system in Victoria II but felt that much could be added to represent the views of each of political party. Below are some screenshots of the political parties and the new issues in UM. Keep in mind all this is subject to change.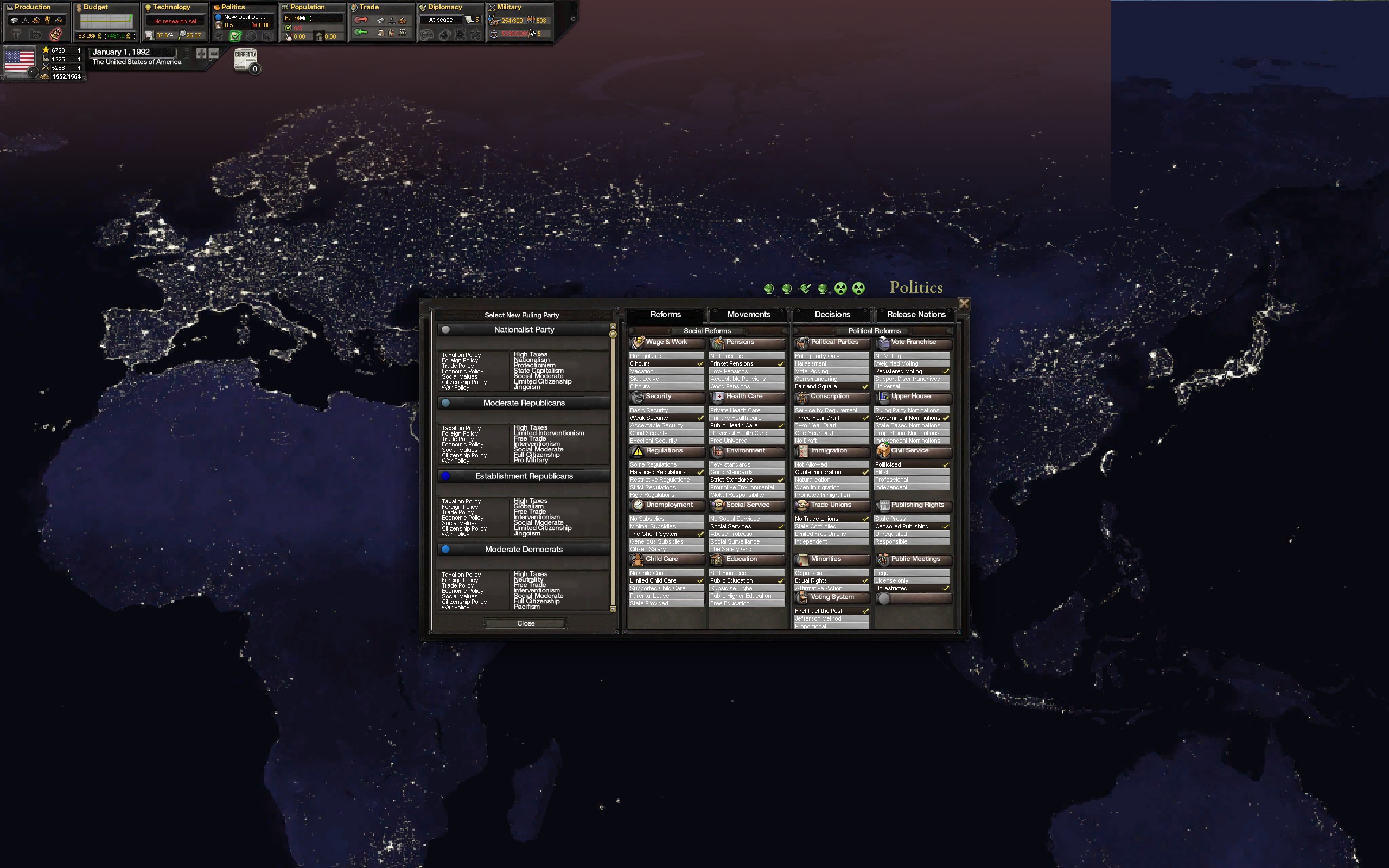 The first thing we did was add in a new Taxation Policy which determines how high you can tax people. Taxes are a important issue in the modern political arena. We also changed the "Religious Policy" to "Social Policy." Religion is still important in today's political arena (Islamism being a notable example) but Social Values are more abstracted and more representative of the modern socio-political landscape. Lastly, we added in a foreign policy. There are several foreign policies but globalism and nationalism represent two opposite poles that will be in constant conflict.
That's all for now! See you next time where will be talking about the 2000 start date and the United States.