Colony Hero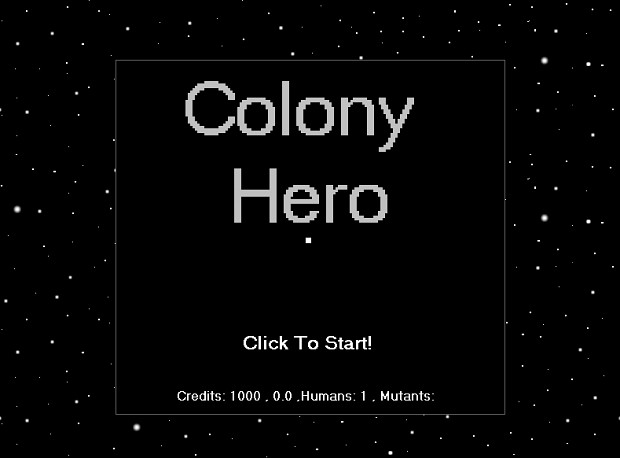 About
Colony Hero starts you off as a taking over a new planet. You have some credits left over as pocket money and have decided to invest in the human race. You arrive with your first human on your new planet and this is where you start in Colony Hero.
Gameplay
Colony Hero doesn't play quite like anything else. The game lets the AI make all the decisions while you only get to decide what the money is spent on next. This means the AI controls everything from where it places its buildings, the size of the buildings, the colour your colony prefers and once there more educated they can even improve there buildings if they feel like it and learn to build new ones. With the AI at the control of it all it means each time you play it should end up being a different experience.
But all is not well
Colony Hero does have combat planned aswell. We are aiming to add in mutants which are basically your rival's. They will send all different creatures and other mutants to attack your colony. So you need to make sure your AI is smart enough and well equipped enough to deal with when they do attack. This feature wont be in straight away as we want to focus on improving the UI and the elements it plays with.
Simplistic Look
We wanted to give colony manager a late 80's feel with retro graphics and everything simplified when possible. We hope you will all join us on the adventure and were looking to put out atleast a very basic demo in the upcoming weeks.