Grab the demo here: Web Player Demo / Downloadable Demo
---
Back for the second round of trying to put out small gameplay demos of Chester United every week or so!
Took all of the feedback that I received from last week's build and threw it straight at Chester's stupid smug face.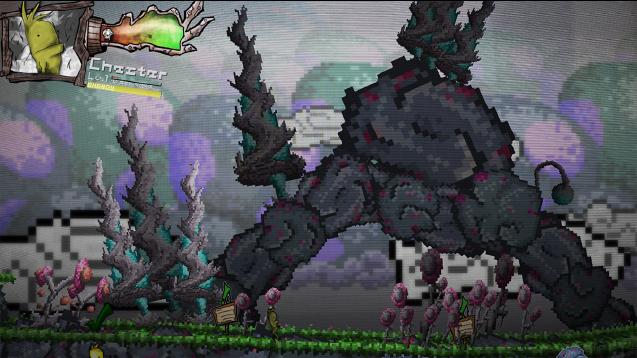 (Weekly demos are just small 1-level demos for me to get as much feedback as possible on the game while in development. Chester United is still a game in early development and any feedback at all is greatly appreciated!)
Changes from Last Week
Less sluggish controls(Let me know how these feel now!)

Re-did the movement system for Chegami. He now jumps and then hovers. Also less sluggish. Also adjusted hover times and strength.
Made the tutorial level a bit longer, spends more time explaining aspects of the gameplay. (Still not enough? Let me know.)
Made the camera movement system a little smoother.
Added more decorative assets to empty-feeling areas of the level.
Did a bit of enemy rebalancing.
Adjustments to the audio system to give better audio panning
Added new types of platforms that move when on.
Added ability to drop through platforms with down+jump.
Fixed bug with camera triggers not always triggering.
Fixed bug with checkpoints not always working.
Fixed bug with grass sprites Z-fighting.
Fixed bug where enemies wouldn't slow down from time slowing ability.
Fixed bug where the player could get pushed in front of the world. You would fall. And die. No more of that!
Targets for the next demo (Target date around 9/6/13)
New level setting and/or new style in the updated art.

Try out a few new keyboard control schemes.

Add more personal info to Bestiary entries. (Kill count, times a character/style are used, etc.)

Multi-scene levels. (Doors to other areas the same level.)

Fix bug where walking enemies sometimes walk past their turning barrier.

Add foreground elements to certain non-action areas.

Make BG elements scroll with the player movement.

Add in weather such as rain and snow that randomly triggers on level loading.
As always, your feedback and support on Greenlight are incredibly appreciated. Every bit helps!
---