Our changelist for version 1.04 (which should be hitting you shortly) has about 34 items on it, so instead of listing all them here I'll highlight a few of my favorites. When you open the game now you will notice that the title screen now has multiple options; Normal is the same as the demo before, Hardcore will allow you to play until you die and give you a score, and Time Trial will allow you to see how long it takes for you to reach the boss. Of course these modes mean nothing if you can't compete with friends, so we've added in the ability to provide a seed to the game which will generate the same dungeon every time. I'm sure the next thing you will notice is the revamped graphics, but it doesn't stop there, we also have brand new maps to make each playthrough feel much more varied.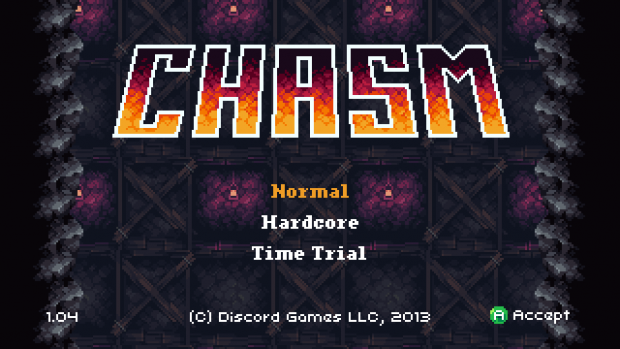 Another widely requested (and now implemented) feature is re-mappable keyboard controls. Don't like how Chasm controls? Just change it around so that you feel you are getting the best experience possible.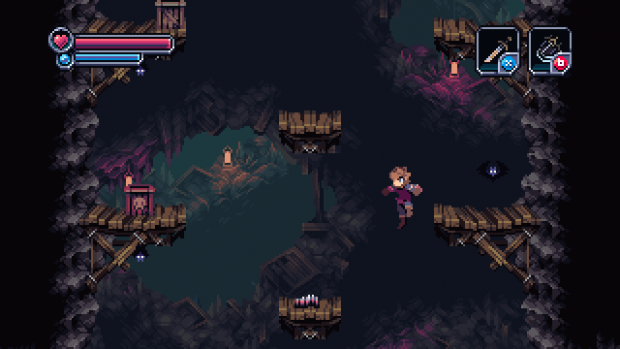 Rolling now grants you a moment of invulnerability, so you can dodge incoming attacks. Bats will also be MUCH less annoying when you fight them.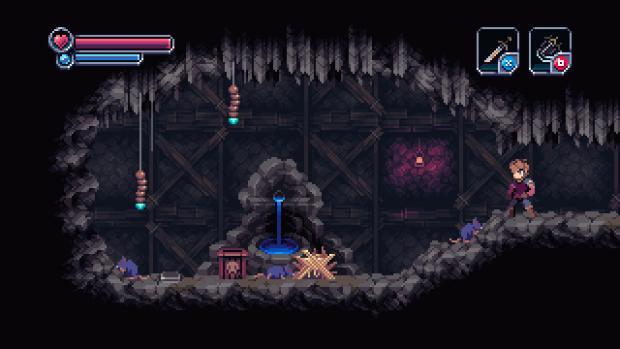 The demo will also go to the third floor now. Oh and if you're interested in translating the demo to enjoy it more, there's support for that as well.
If you want to read the full changelog,
Someone wrote: - Added revamped graphics and maps
- Added Hardcore and Time Trial Modes
- Added Seed for reproduceable dungeon experiences
- Added re-mappable keyboard controls to config
- Added fan translation support
- Added extra dungeon floor
- Added item stats to shops
- Added temporary invincibility while rolling
- Added mouse buttons to Attack left & right
- Added minimum amount of chests to spawn per floor
- Added breathing visual fx to surface
- Added four weapons and one accessory
- Fixed formula that sometimes gave incorrect weapon ATT damage
- Fixed bug where skeleton drops disappeared if not picked up
- Fixed bug where status effects were still active while in NPC menus
- Fixed gold pieces spawning in walls
- Fixed blood particles spawning in walls
- Fixed bug with bats spawning ontop each other
- Fixed empty hand icon showing for other EQ spots
- Fixed bats sharding in ceiling
- Fixed bug with Rare items sometimes getting more points than Legendary
- Changed menu palette
- Changed bat AI behavior
- Changed enemy dungeon floor spawnings
- Changed starting weapon to Rusty Sword, rebalanced weapon stats
- Changed Character Menu button to immediately close the menu
- Changed back button on Map to return to game instead of Character Menu
- Changed Accept and Interact to same key binding by default
- Changed treasure chests to favor spawning in dead ends
- Updated Mines music to newest version
- Increased healing power of food and rarity of drops
- Increased attack power of Kobold and Ice Slime
- Decreased crates per screen from 4 to 3
This is all being done based on feedback from Kickstarter and our website. Feel free to spread the word and participate on the forums, we actively read all the feedback we get.