As Super Hematoma is heavily inspired by the beat-em-up games that we would play in our youth, we wanted to get more of a casual street wear look with a bit of thugy/punkiness as our primary focus. I was inspired a bit by trying to get something that was a little cartoony like the River City Ransom characters, and started with a feeling that was a little like Bill Watterson's Calvin and Hobbes characters.
We knew that we wanted something that was SNES/Neo Geo in style in our end renderings and cartoony would feel better to us than something a little more realistic like Streets of Rage.
Here are some of the initial sketches that I did while exploring what the look of our initial characters might look like.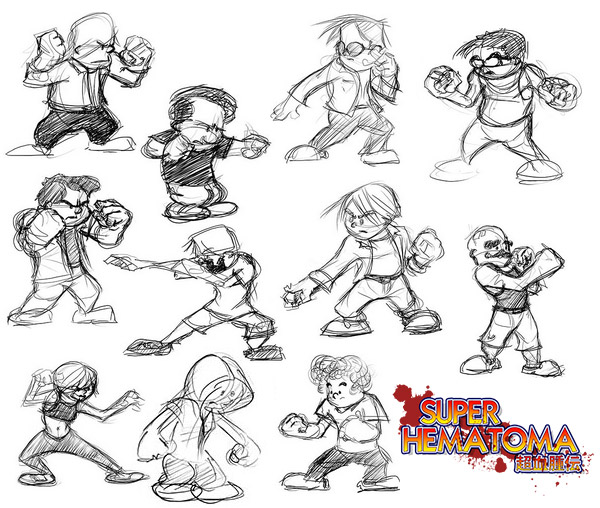 Our plan with the characters (which we've called Bruisers) is to build a few different bodies, and allow for swapable pieces so that players can customize their own Bruiser. So After doing some initial sketches which were mostly done to find some sort of an initial pose that I liked, I had to determine an actual costume to start with. Hopefully we'll see some people wanting to play the game and can eventually build more options... but you've got to start somewhere simple, right?
And so I did costume design!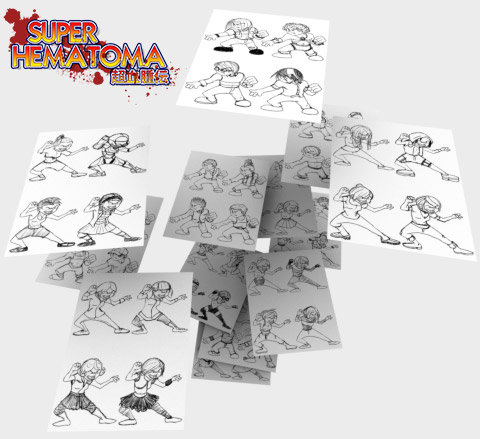 Which then left me with the task of actually sitting down and designing sprites. We weren't sure what scale we wanted to work at at first, so there was a little bit of playing around with sprite design as well. We were originally going with some smaller ones that would be a little bit more on par with something that would be in an old Mega Man game...



...but when we weren't satisfied with the ability to get different facial expressions or facial features at this scale, we then we started exploring larger options until we wound up with something similar to these:


As I said, we hope to allow for some character customization to happen, but we're not at that point just yet.
Stay tuned for more!