This update is more geared towards the Pets and specifically to allow the players to create better and stronger pets by using the Pet Growth information. Pets are an important part of CSK and will continue to play an important role in the future so I would highly recommend learning to build pets and it is okay to make mistakes along the way.
What is Pet Growth? it is the base strengths and weaknesses of your pet look at the image below to see what I mean.
Blue Jelly Growth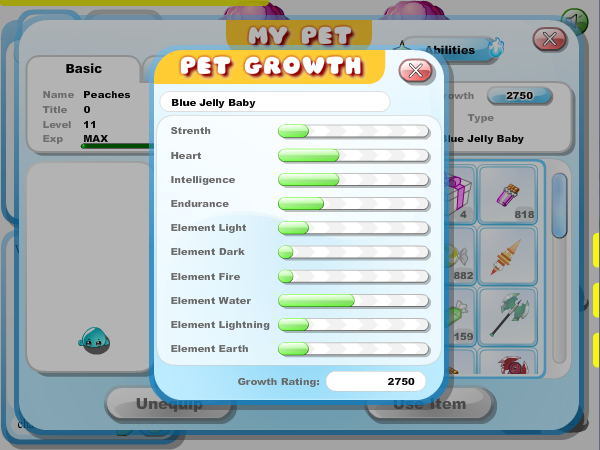 Pet Growth is always the same from the very first level and will never change, but it will be different from pet to pet so if you want a pet to do physical damage then a high int and low str pet is not right for that situation.
For those who have made a mistake on a Pet and would like to be able to start over with the same pet then you will definitely like this. As of this update a new Item has been added called Magic Capsule, when you use this on your pet it will reset all the pets points that are used for stats, elements and abilities. This means you will be able to set all your points starting from level 1 but you do not lose anything, the reason why I say this is because your spells and skills will also be reset to level 1 so you get the points back but you do not lose the exp on those abilities, you can level them up right back to what ever level the spell or skill used to be because the exp is not lost.
So now you're thinking where can I get the Magic Capsule and the answer is that you can only obtain it from completing the new quests that have been added. One of the quests is easier to do because you only need to fight level 5 bosses but the other one is harder because you will need to fight level 10 bosses. In addition the second one is Monthly repeatable, this means you can do it again one month after completing it to get another Magic Capsule. So for those of you just starting on these quests you can get 2 of these Magic Capsules right now.
There has also been new Large Candies added that will restore much more than the smaller versions when you feed it to your pet, these Larger Candies can only be obtained from defeating level 5+ enemies and can not be bought in a shop.
Now for even better news, the next update will be the Pet vs Pet Battle System, I don't know how long it will take to make this update but you should take this opportunity to get your pets ready for battle by using a Magic Capsule if needed and get ready for the carnage that is in the next update xD
Overview:
* Pet Growth Panel added
* Quests added for Magic Capsule
* Items added for quests
* Large Candies added
* Bug fixes