Big news! The browser version is now working properly for those who are afraid of downloading files from weirdos on the Internet and I'm proud of it. It's a huge improvement over the model of pop-ups every time it wanted input, which was awful. Hopefully now we'll get more people playing it and the innovative aspect of it learning from users' input will go into overdrive and it'll get a lot better, once the browser version is linked properly to the logging system... It's already got more than 500 commands where normal text-based games may have a few dozens and thousands of situation-specific responses so well worth a look. The vision is starting to come together, but it can't succeed without Kickstarter contributions.
Well, here's a picture of it in action, to prove it. I used emscripten with --bind to shift the game engine from c++ to javascript and then used jquery terminal to get it working nicely in browsers with this retro style. I then spent a while eliminating the hitting of maximum recursion depth, since so much compiling between languages of course created unnecessary complexity. Hopefully it should work, though.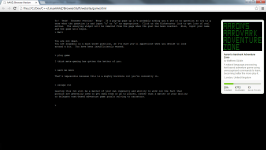 Play it now at Aaazgame.co.uk and tell me what you think. And please, consider contributing to the Kickstart! Most importantly, though, enjoy the game :)
Oh, two more things: 1. There's now a Facebook page you can like if you want to stay up-to-date on special offers and new kickstarter rewards, as well as updates, at Facebook.com and if any Americans know anyone in the states of Nevada, Mississippi or Rhode Island could you please link them the website? I'm trying to collect all the states :D
All the support has been great and I appreciate all feedback, as well as you guys for reading this. Less than two weeks until the end of the Kickstart!
-- Matt