Boring Man Update 11/6/2013
Base Equipment
Turrets and Generators have been added to CTF. Their purpose is to allow your flag and base to remain unmanned to an extent, and add a bit of strategy when attacking.
The turret is a dangerous automatic weapon attached to the ceiling. It will automatically target enemy players and shred them to little pieces.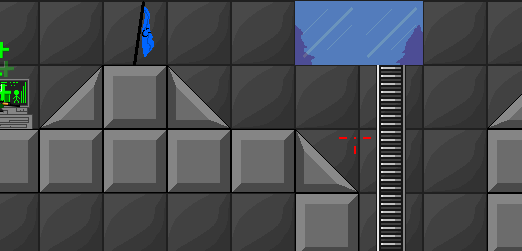 The turret can indeed be destroyed, but it has a rather quick health regeneration rate, so explosives and EMP grenades are most effective against them.
Optionally, you can attack the generator which will disable the turret and resupply stations (which refill health and ammo). If a piece of equipment is destroyed, it will repair itself within a minute, but will NOT if your generator is broke.
A broken generator can be repaired by punching it. You can also restore its health this way if its damaged. Be careful though, equipment explodes when destroyed and it can hurt quite a bit.
Gathers
Let's face it, this game isn't wildly popular. What I've noticed after a couple of weeks of spying on the server list is people tend to play the game by themselves. I did NOT bust my ass on netcode for you muffin heads to play by yourselves! My bots are pretty cool and all, but this is not my ideal Boring Man vision I have set for you.
So I'm going to try to bring the very small community I have together. 2 or 3 times a month I will schedule something called a "gather". As in I give you a day and time, and you and other players who are looking to play will join the server at that time. This will guarantee a server with actual players in it, and hopefully get me some more positive feedback on things like weapon balance and map design. I'll be playing too (probably trying to suicide bomb everybody), and you can ask me questions and suggestions and stuff if you'd like.
On the day of the gather, I will also try to stimulate all fronts of social media I have so new players will come by and join the server.
If this gather experiment is successful, it can be a monthly or weekly thing to do. It should be lots of fun, and we can get a lot of good testing done.
So! Let's get to it..
Gather #1

Date: 11/9/2013
Time: 12:00PM MST
Server: Spasman's Capture the Flag
IP: caniplay.kdegrose.com (US West)
Game Mode: CTF
Mutators: None
Map: fields.bmap/snow.bmap
Max players: 20
While it's not required and anybody is free to join, please submit a response to whether you would like to play in this gather or not. It will help me determine if this idea is gaining interest or not.