WOW!
We reached the half way point in our first day on Kickstarter. I really appreciate all the support and energy everyone has given for Tiny Trek. It is truly humbling to see all the positive remarks and support with your backings. It is motivating me to triple my efforts to make sure you all get the game you deserve! As we move into day two I wanted to address some of the reoccurring comments. I will also make some of them FAQ's today.
Platform Support: I made a pretty graphic showing the target platforms but really never spelled it out and this has lead to some interesting inquires. The original design scope was to target Windows PC, Mac, iOS, Android and Ouya. Linux and Windows Mobile 8 have been mentioned by many a potential user. I believe at the minimum I can get it running on Linux using HTML5 worst case. I am still
attempting to see if I can generate a native app. I am still researching if I can use XNA to achieve a true Windows Mobile 8 App. I will update you guys as soon as I have solid answers.
New Features: You guys have sent me some great ideas over the last 24 hours and I am researching them and figuring out which ones can go in without effecting scope badly. What I want to know is how do people feel about them being bundled in stretch goals if they turn out to be a lot of extra work. One new feature that I am all ready working on is Space Stations.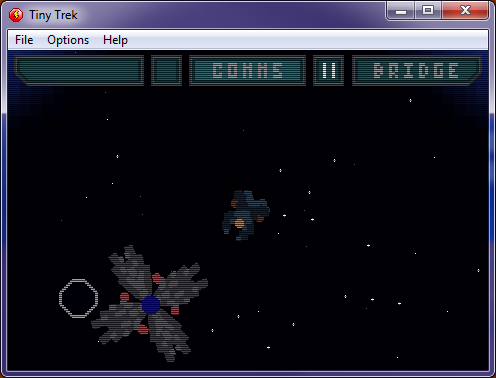 Here is a WIP image of me tuning the new algorithm to generate
them. I am working on a mini game to match your ship up to the station
for docking, The station will be rotating during the process. Once
docked we can port over a lot of the trade code but I wanted more ideas
on what we could do, I was even thinking a Lounge ala Galaxy on Fire 2,
to pick up randomly generated missions. Thoughts?