The featured game for May 4 - 8 is here! Get it now!
---
Feature Details:
Game: Bleed
Developer: Bootdisk Revolution
DRM: DRM-Free
Platforms: Windows
Controller support: Full (Customizable)
Featured Charity: Parkinson Society Canada
10% of all sales generated by this deal will go to the featured charity.
---
Game Description:
Bleed is an action-platformer focused on stylish, acrobatic dodging and fluid, challenging gameplay. Wryn wants to be the ultimate videogame hero, but the Greatest Heroes of All Time have already been chosen. Help her take them down one by one in an action-packed bid to claim the title for herself and show the world what a true hero looks like!
Featuring:
A unique control scheme that allows you to slow time, weave through hails of bullets and clear roomfulls of enemies without breaking a sweat

Seven levels packed with multiple set-pieces and bosses

A large arsenal including a flamethrower, remote mines and a bullet-reflecting sword

Difficulty levels ranging from laughably easy to maddeningly difficult

Local co-op (requires at least one controller)

Three unlockable characters that put their own twists on the gameplay mechanics

Unlock Arcade Mode to try and survive the entire game on one life

Unlock Challenge Mode to select and battle up to three bosses at once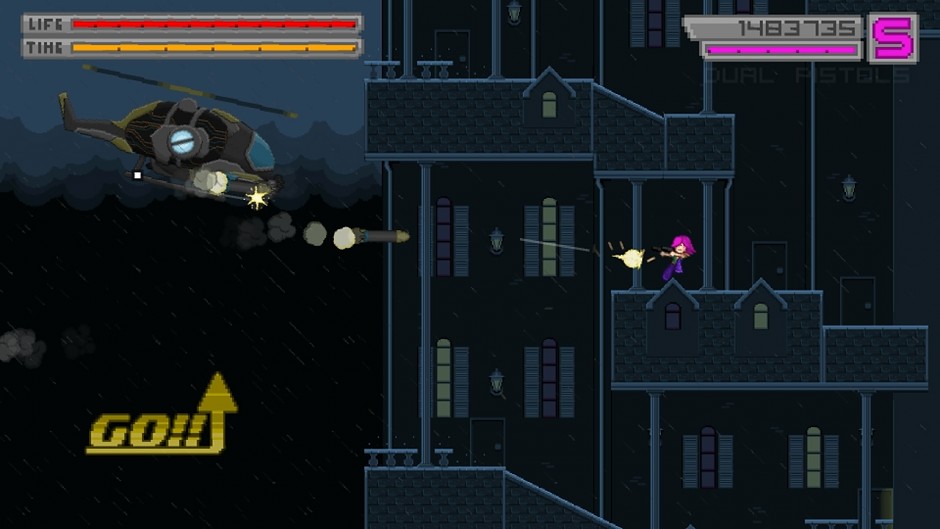 ---
Beat the average and get:
Bleed 2011 Alpha
Bleed Concepts (Images)
Bleed Original Soundtrack
The top three contributors will also receive an exclusive IndieGameStand T-shirt!