The Update That Wasn't
The story of Orbit's initial release is fraught with a little more drama than you might think. Orbit is made in GameMaker Studio, which allowed us to publish the game directly onto iOS with the use of the iOS module. Or at least, that's how it's supposed to work. GameMaker Studio ran into an issue exporting games over a certain range of builds, where all Apps exported from the program were getting rejected. Naturally, with RTX approaching, having an App persistently rejected was getting a little stressful, so I wrote in to the Help-desk.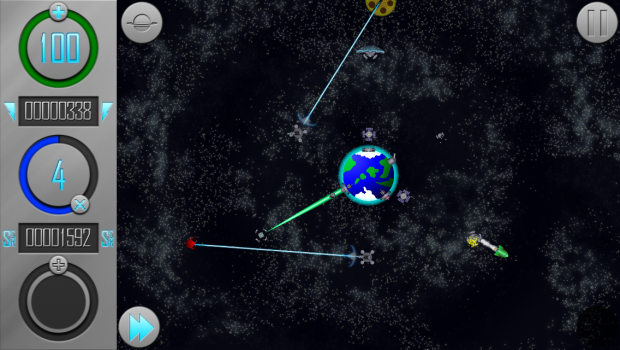 Left on the cutting room floor, temporarily
I was provided with a pre-release build of GameMaker Studio where the error had been fixed, but it wasn't ready for public release due to some other lingering issues. I installed the pre-release to find that the effect we created for Railguns was causing a crash. As a result of this, we switched the effect to match that of Missile Satellites so we could get the game out the door.
A few days later, GameMaker Studio released a stable update, with which I created version 1.0.1 of Orbit:
Fixed an issue with manual targeting making it too easy to select a satellite while trying to click an enemy
Put back the original Railgun effect in place of the Missile effect placeholder
Paused the game when it loses focus
Disabled screen-diming / shut-off while the game is running
Given how this build of GameMaker was supposed to be more stable, we figured we'd push the update live as soon as possible, which we did. Once the build went live I immediately started work on version 1.1.0 which adds a proper tutorial to Orbit.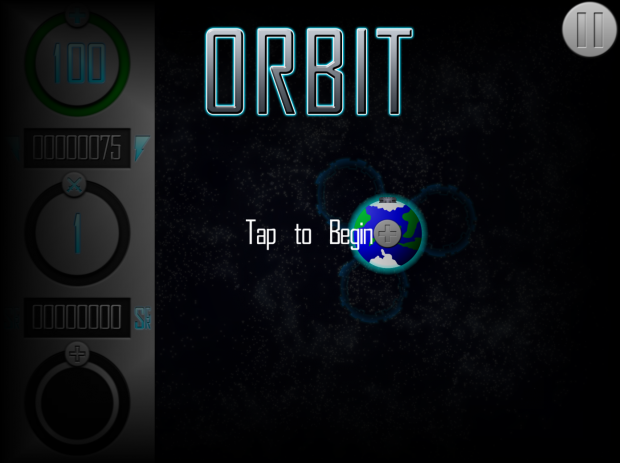 You can't rush these things
I managed to finish the tutorial faster than Apple could approve 1.0.1, and since you can't submit more than one update at a time, and RTX is closer than ever, I had to cancel the 1.0.1 update so I could submit 1.1.0. Orbit 1.0.1 will never see public release, but all of its tweaks and bug fixes will be preserved in 1.1.0, an update which I'll write a more detailed article on when Apple approves it and it goes live.
Following RTX, we've got lots of plans for future updates to Orbit, so stay tuned!
BGP Orbit - Tower Defense Redefined