This week was painful, i had to push all the changes from the map engine to the actual game so it meant a lot of bugs related to relationships (parent/child) between display objects and positioning. After messing with that and rewriting 3 or 4 times a bunch of stuff i can now add graphic content quite easily.
I also implemented the collision system server-side (the ghost) :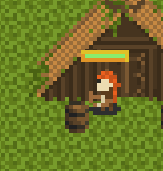 The character is already animated but that's among the things i haven't fixed yet since the new map engine...
I still have some issues here and there but they should be fixable along other coding tasks.
For all these reasons i don't have much to show except minor things, i remade my barrels, yep !

And i can now hit them, take that you piece of wood !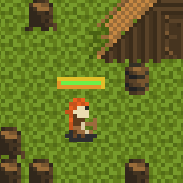 I hope you like green and brown because i'm not ready to make a new map yet and you're gonna eat a lot of GIFs :D
As i said last week, the next step will be about making a more simple focus / attack system, i'd like to try some aim based attacks but i noticed i'm gonna have some issues in the animation department :3

I don't know if it's THAT weird but right now it means that firing can happen in 180° in front of the character, i'm really not sure i want to add a front and back side to the character.
I like the easiness of having one side, animating it and just flipping it when the player is facing left; with all the anomalies it brings to it it's still really efficient for me and my skills...

He's just switching the shield in the other hand really really fast U_U